Celebrating Bill Reimer
March 09, 2018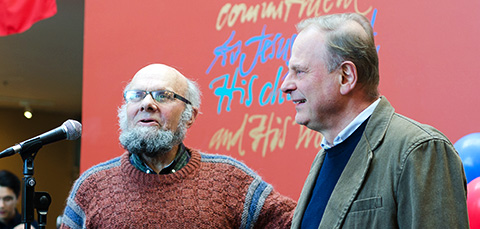 Creating a bookstore that welcomes as well as educates
Friends and fans—readers of Winnie-the-Pooh to readers of Kierkegaard—gathered Saturday to celebrate the 65th birthday of Bookstore Manager Bill Reimer. There was an exceptional collection of both Regent's emeritus (and current) faculty and bookstore employees from the last twenty-eight years—traveling from as far as the Sunshine Coast, Abbotsford, and Bellingham.
Friends, family, alumni and customers expressed their deep appreciation and respect for Bill's thoughtful friendship and brilliant book recommendations—for creating a bookstore that welcomes as well as educates, for being a person whose humility and personal integrity blesses everyone.
A highlight of the gathering was the surprise presentation of Regent College's journal, CRUX. A new issue was created in honour of Bill's remarkable work and his longstanding commitment to books. Articles by Alister McGrath, Ralph Wood, Loren and Mary Ruth Wilkinson, and a number of others are included in the volume.
As Loren Wilkinson noted with admiration, "For over a quarter of a century, Bill has done his best to make available, to a steadily growing public, books that explore every facet of the Christian belief that the incarnation of the Creator God in Jesus is an essential guide to living in and understanding our increasingly complex world."
For a preview of this issue, Loren Wilkinson's "'Lantern Bearers': Books, Bookstores, and Bill Reimer," and Alister McGrath's "Books and the Discipleship of the Mind" can be read here and here, respectively. The full issue can be ordered by emailing [email protected].