Interview with James and Chris Houston on Their Upcoming Workshop: "For Goodness' Sake"
May 12, 2017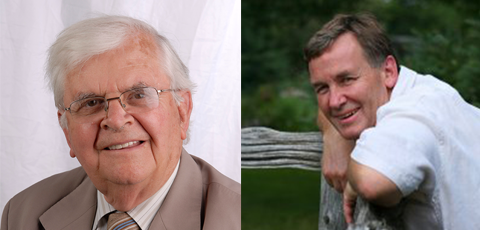 "Our separate careers in academia and business are rooted in a shared faith, and we want to use them as one instrument"
James and Chris Houston are leading a workshop, May 26–27, entitled "For Goodness' Sake: Christian Identity and Business Leadership." The father son team met up in Cambridge, England, to tell us how the idea was born and to give us a sneak peek into what to expect from the workshop. Read the interview below, or see the full details of the workshop here.
Who is this workshop for? Will a Christian business person who is not a CEO or policy maker in their company benefit from it?
This is a workshop for anyone who wants to explore how, as a Christian, they can influence businesses to serve as a force for good, whether as a consumer, an employee, or even a manager. Business is a form of organization that is undergoing profound change, which affords Christians an opportunity to exert an influence that reflects their own sense of Christian identity. Each of us has points of influence and this workshop will help participants to recognize those points of influence, notice the broader movements that are underway, and find their own unique opportunities to participate and contribute.
This workshop draws a connection between Christian identity and the shape of business leadership. What is just one aspect of Christian identity that you see making a vital contribution to business ethics?
A business is a particular organizational form that happens to be involved in some commercial transactions and so is distinguished from other kinds of organizations such as educational institutions, governments, charities, clubs, etc. To be Christian is to live out of a recognition that we are made in God's image, that we carry the Imago Dei. When we form organizations, such as businesses, we too make them in our image, in our likeness. Yet it is intrinsic to the character of the triune God to be relational, to exist for the sake of the other. So, how then might we fashion a business organization to reflect this essential characteristic of what it means to be truly human, to exist for the sake of the other? Demands for such businesses are growing. How will we as Christians respond?
What would you say to a Christian business person who feels discouraged or restricted by the expectations of their industry?
Firstly, "welcome to the club!" This experience of discouragement is entirely legitimate. There are a great many good reasons to be profoundly discouraged with many things, in any industry. Wealth is over-concentrated, business labour is exploitative, theft universal, fraud normal, and manipulation and corruption rampant. 'Twas ever thus, as the Psalmist well knew. Yet, a tide is turning as the next generation of employees and growing numbers of consumers require of business a contribution to positive social impact that has never before been demanded with such power. And businesses across every industry are responding in a diversity of ways. A great many leaders sense the demand and have no tools with which to respond. Our remarkable opportunity as Christians is not to become submerged in cynicism but to embrace the radical hope of the gospel. The road is hard; A long obedience is required. Yet businesses are becoming vehicles for positive social change for which our hungry world is starving. Christians can and must lead. We are wired for it.
How did the idea emerge between you, father and son, to combine your different professional spheres in this way?
Perhaps our first response was, "why not"? After all, we are father and son. We both recognized that to reach a particular audience with a unique voice we needed to bring together our two experiences. Our separate careers in academia and business are rooted in a shared faith, and we want to use them as one instrument—to write theologically without using theological language, to be "mere Christians" together. Regent is a manifestation of this shared conviction that our faith and our work must be fused, integrated, integrative. Ultimately, we too are learning as much as anyone who might benefit from what we offer. We have not "arrived," so we are welcoming our workshop participants into a dynamic of discovery in which we are as much "students" as they are our "teachers." Such is God's handiwork as he fuses and gathers His people together to effect His purposes.
What most excites you when you think about men and women in business gathering to consider the importance of Christian identity to their work?
What most excites us is the endless potential for what must energize us all as Christians, to be points of light in the moral vacuum that is mere commerce. When God's people ask inquisitively and hopefully of Christ, "What are you already up to where you have placed me, and how can I join in and help?" we are invited into His redemptive work. Like the small boy with the loaves and fishes, our challenge is not to aim for impact but rather to simply show up in obedience. Those of us with Christian identity who find our places in or adjacent to these organizations we call "businesses" already have both opportunity and resources to impact them favourably, to be salt and light in our workplaces. Businesses crave this salt and light, and part of the challenge for us is discerning the different ways in which this craving is expressed. If we can learn to notice the signs of opportunity, reach for the courage of conviction, and live humbly out of our rooted identities as God's people—if we bring our few loaves and fishes—then Christ can and will serve a banquet for a very hungry world. If our workshop participants can discover just one way in which they might live out of that reality, then we are both more than excited, we are deeply thankful.