Engaging the Moral Imagination: An Interview With Laurel Borisenko
June 13, 2017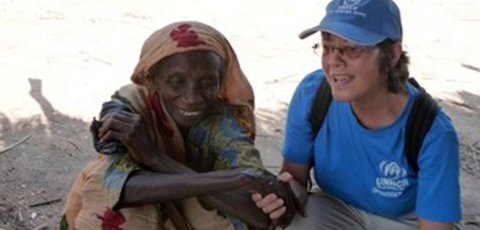 It makes sense that as image-bearers of the Creator God, we would be called to use our God-given gift of creativity in moving out of cycles of violence and into cycles of healing.
In this interview, Regent alumna Laurel Borisenko discusses the role of the artistic imagination in envisioning and enacting alternatives to violence.
Laurel has spent the past 15 years working in humanitarian aid and peace-building with both the United Nations and faith-based NGOs, primarily in sub-Saharan Africa. Her PhD research in Zimbabwe, Kenya, and Uganda examined how communities that have undergone violent conflict have used the arts (specifically theatre) to move toward healing and reconciliation.
Laurel is teaching The Moral Imagination: Peace-building & the Arts at Regent Summer Programs, July 29–August 2, 2019.
I understand you have worked extensively in humanitarian initiatives throughout Africa. What led you to integrate your humanitarian work with the arts?
Through my work with refugees and emergency relief I have been witness to desperate suffering, but also heroic resilience. I wanted to understand the resilience; I wanted to understand how people were able to move from victim to survivor—how they were able to forgive and move on with their lives in healthy ways. I found that everyone has a story that they need to tell; they need to communicate and to be understood. But this communication was often more effective through some form of creative expression. I managed to combine my passion for human rights and peacebuilding with my own creative expression. Then, through my research I found that I was not alone—that the integration of art into human rights work is a growing field of peacebuilding practice.
What is "moral imagination" and how do you understand its presence or absence to affect cycles of violence?
I first came across the term "moral imagination" in the book by that name by peace researcher/practitioner JP Lederach. He claims that overcoming violence requires imagination, which translates into creative acts. It makes sense that as image-bearers of the Creator God, we would be called to use our God-given gift of creativity in moving out of cycles of violence and into cycles of healing. In the course we will begin to explore ways that this could happen.
Could you share a particular instance of this from your own experience?
When I was researching in Kenya in 2012 I came across a group of young Congolese refugee women who had started their own theatre group. They called themselves "The Survival Girls." They met together daily, shared stories of their flight and the difficulty of life in Nairobi. They then formed this into a play, which was performed for World Refugee Day in front of Kenya's Minister of Immigration. The Survival Girls are still going strong today—with no external support! One of them has recently resettled to Ottawa to start her new life here. I hope she keeps acting!
For the course you are teaching here at Regent this summer, you've mentioned a particular emphasis on theatre. What is it about theatre that you find particularly effective? How might artists of other media benefit from the course?
I particularly like theatre because of the physicality of the creative expression, and because theatre can encompass so many other creative forms: song, dance, poetry, drumming, etc. But there is no limit on the type of creative expression that can be used—all forms are welcome! It's all about storytelling.
What would you say to an artist who wants to contribute to reconciliation or healing in areas of brokenness—whether geographical or conceptual—in our world?
I would first of all encourage us to not be daunted by the word "artist." As image-bearers of the Creator God, we all have the capacity (necessity?) for creative or artistic expression. I believe this is part of our calling as Kingdom people and as followers of the Prince of Peace: to use our areas of influence to make this world a better place. Bettelheim described violence as "…the behavior of someone incapable of imagining other solutions to the problem at hand." So let's imagine and express solutions together.