Remembering Dr. John Conway
June 26, 2017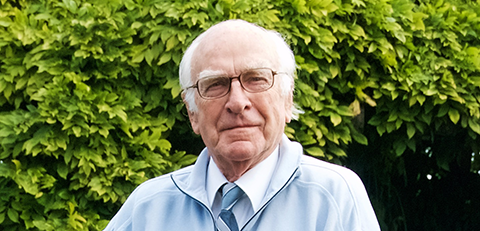 John's contribution to Regent both intellectually and personally has been of the highest order, and his presence on campus will be greatly missed.
The Regent College community mourns the loss of Dr. John Conway, a long-time friend of the college. Dr. Conway passed away on June 23, 2017, with his family at his side.
Dr. Conway taught in the University of British Columbia's Department of History for nearly 40 years, specializing in the study of the German church during the Nazi era. He authored numerous publications, including The Nazi Persecution of the Churches 1933-45, one of the seminal books on the topic. Dr. Conway is remembered by generations of students as an engaging and challenging teacher who fostered independent thought.
Dr. Conway contributed richly to Regent College's community life, serving as a guest lecturer, friend, and mentor. In 2011, he endowed the Conway Holy Land Travel Bursary, an annual bursary supporting Regent students who wish to pursue research on-site in the Holy Land. He could frequently be found in the Regent College atrium spending time with his wife, Ann, catching up with a friend, or discussing a research topic with a bursary recipient. He was also a regular contributor to CRUX, Regent's journal of thought and culture. As Academic Dean Paul Spilsbury noted, "John's contribution to Regent both intellectually and personally has been of the highest order, and his presence on campus will be greatly missed."
Dr. Conway was a long-time supporter of Regent's library, donating from his substantial collections of manuscripts and books related to the history of the church in twentieth-century Europe, especially during the Nazi years, and donating generously towards the acquisition of new titles. Library Director Cindy Aalders observed, "He was a friend to those of us who work in the library. We will miss his phone calls, his visits, and his curious mind, often enquiring about a new book he planned to read. The Regent library is far better as a result of his presence among us."
Born and raised in London, England, John Conway was conscripted into the British army in 1948. He first learned German while posted to the Intel branch in Austria, near the Russian line. He was excused from service six months early due to his admission to Cambridge. After completing both his undergraduate and graduate studies at St. John's College, Cambridge, Dr. Conway left England to take a position teaching at the University of Manitoba. On the ship to Canada he met Ann, a physiotherapist. They were married in August 1957. John and Ann looked forward to celebrating 60 years of marriage this summer.
After teaching for two years in Manitoba, Dr. Conway took a position in the Department of History and International Relations at UBC, where he taught full-time until his retirement in 1995. He was subsequently appointed professor emeritus of history at UBC and served as the Smallman Distinguished Visiting Professor in the Department of History at the University of Western Ontario.
Dr. Conway provided generous and tireless service and support to a number of organizations. On the UBC campus, he was a long-time Faculty Advisor for the World University Service, and he volunteered with the Student Christian Movement. Off-campus, he served for a time as chairman of the Vancouver branch of the Canadian Institute of International Affairs and the United Nations Association. He served as director of the Tibetan Refugee Aid Society for 10 years, and was awarded the Queen's Silver Jubilee Medal for these services. Continuing his service to refugee populations, he later served as the chairman of the Refugee Unit of the Anglican Diocese of New Westminster, arranging sponsorships for those beginning new lives in Canada.
Dr. Conway leaves behind a rich legacy as a teacher, citizen, friend, mentor, father, and husband. Please join us in remembering his full life of service to God and others. Vespers for the departed will be held on Tuesday, June 27 at 7 pm at St. James Anglican Church, Vancouver. A Requiem Mass will be held at St. James on Wednesday, June 28 at 11 am. More information is available in the obituary, here.