Don't Miss Out: Important Updates to Regent's Email Resources
June 28, 2017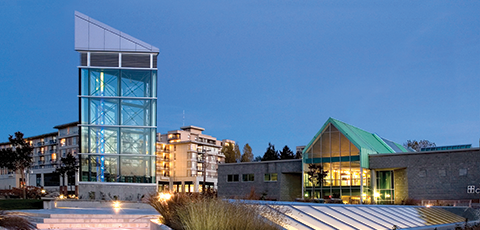 We've got new content coming up… and we're looking forward to being able to get these pieces to the right people: people who care about the material and will benefit from it.
Regent College has recently launched a revitalization of our email resources! This effort coincides with a key June 30 deadline in Canada's anti-spam law. Here's Amy Anderson, Regent's Director of Communication and Public Engagement, to unpack what these changes mean for our readers.
Amy, can you briefly describe what the College has done and what you hope to achieve with these updates?
We're making some changes to how we're staying in touch with our community—students, friends of Regent, alumni, churches, and so on. We want to make sure that people are hearing about what's going on at Regent, but we also want to ensure that the material they receive is relevant for them.
We're doing that in a few ways. The first and most important is by giving people the opportunity to sign up for emails and to tell us what they want to receive. We've updated our subscription form to include more options, which will help us to make sure people get the information they care about.
We've also got some new content coming up—a refreshed alumni newsletter, some more professional development options for pastors and church leaders, some great conferences on theology and history next summer—and we're looking forward to being able to get these pieces to the right people: people who care about the material and will benefit from it.
Are there any other new content options that readers should know about?
With the new Office of Alumni & Church Involvement, we're working on building more consistent communication with our alumni and with churches, both in the Lower Mainland and beyond. We're refreshing our alumni newsletter to include curated content to support and encourage our alumni. We're also working to connect our alumni with each other and with our faculty as they travel. We're reaching out to churches to find out how we can serve them better and to offer things like professional development for church leaders. So there are lots of exciting things happening in that area.
We've also included options for people who want to support Regent in a few different ways. Our friends and alumni are a key part of spreading the word about our mission, so we're giving people the opportunity to sign up if they want more information on how they can help us tell Regent's story. We also know that prayer is essential to our survival, so we've provided an opportunity to sign up for regular prayer updates. I've been really encouraged to see people taking us up on both of these options: it's great to be reminded that we've got a wide network out there who care about Regent and want to help the college thrive.
How will readers benefit from these changes?
They'll have more control over what they get from us—not just when they first sign up, but on an ongoing basis. If they sign up to receive emails but start to feel like they're getting too many, or too few, they can always update their options. Every email we send has a preferences link at the bottom, which makes it easy for people to update their options whenever their interests shift.
What happens if readers don't update their preferences by June 30?
That's the deadline when the last phase of Canada's anti-spam law finally takes effect. Basically, it's a cut-off point for contacting people who haven't provided the kind of consent that the legislation requires. We've been working pretty hard for the last few years to get that consent and make sure we're in line with the legislation, but there are a still some people on our lists who will stop hearing from us after that point. Unfortunately, we can't do anything about that unless they come back and fill out the subscription form.
So: if you aren't getting emails from Regent and you want to, fill out the subscription form! If you are getting emails but you want to receive less, or more, or a different kind, fill out the form! Basically, whoever you are, fill out the form! It's the best way to make sure you're in touch with what's going on at Regent.