ReFrame: Brazilian Portuguese Translation Finished
November 10, 2017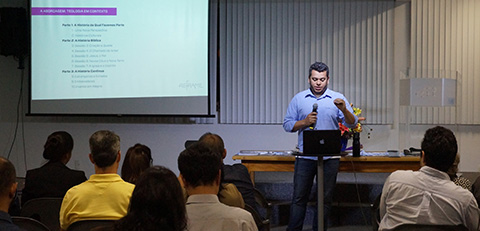 "The scope of 'God's work' is as wide-ranging as the universe he created and redeemed in Christ"
The ReFrame Office is thrilled to announce that ReFrame is now available with Brazilian Portuguese subtitles!
We are thankful for the amazing ways God worked to make this project possible. Late last year, Regent College received a generous gift to fund a Portuguese subtitled version of ReFrame, the video-based small group resource produced by Regent College. Unaware of this developing project, Brazilian Alumnus Bernardo Cho reached out to ask what it might look like for the Sao Paulo Church he was pastoring to partner in translating ReFrame into Portuguese. The timing was impeccable, and joint efforts to translate the material began. The resulting product is a professionally translated script, reviewed by a team of Portuguese speaking Regent College Students and Alumni, and piloted in the context of a local Sao Paulo church community.
Bernardo shared with us what led to his desire to use ReFrame with his congregation: "Too many times I've seen Christians in Brazil experience a disturbing sense of disconnection between what they thought was 'God's work' and their everyday lives. By taking us through the whole of the biblical story, ReFrame addresses this dilemma head-on: the scope of 'God's work' is as wide-ranging as the universe he created and redeemed in Christ. I am thrilled to have been able to participate in making this material available in Portuguese."
Since launching in 2014, ReFrame's impact has continued to grow both here in North America and around the world. To date we conservatively estimate that it has been used in 6 languages, in over 50 countries, by 3,000 groups, and 20,000 people.
To hear more about how pastors are using ReFrame as a tool in their congregations, you may be interested to listen to a recent Podcast where ReFrame was featured on Q Ideas.
To find out more, or purchase ReFrame in one of 6 languages, visit www.reframecourse.com.