Regent Exchange: Seeking the Good of the City
January 20, 2016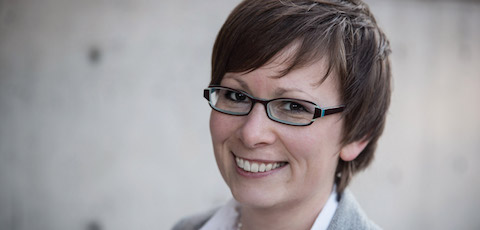 We want to create a "convivial" atmosphere that's conducive to building relationships, sharing hopes and dreams, and even hatching plans for new projects or new adventures in the months ahead.
On January 27 at 7 pm, Regent College will launch a new initiative, Regent Exchange, with a conversation on how churches are addressing the housing crisis in Vancouver. We sat down with Ceri Rees, Director of Communications and Public Engagement at Regent College, to learn more about the vision behind Regent Exchange.
Tell us a bit about Regent Exchange.
Regent Exchange is a new initiative designed to seek the good of the city through the exchange of ideas and lived experiences. It's a way for us at Regent College to engage our local community in a spirit that says, "we're here, how can we help?"
Practically then, we plan to host three events each year, all looking at various facets of one particular issue. Each event will feature three to four speakers who will deliver short, 15- to 20-minute talks each. There will also be time for conversations with others in the room, and to engage with the panelists.
"Exchange" sounds like a freighted word.
That's right. The word "exchange" really speaks to the tone and ethos of the events. We want to create a context in which to add thoughtful, theological reflection to what God is already doing in Vancouver, in both Christian and non-Christian communities.
It also speaks to how we want to structure these events. We're hoping to foster a lively exchange of ideas and lived experiences. Our audience is mostly made up of people who actually want to get on with things and make a difference. We want to create a space to hear about the amazing things people are already doing. To use an old-fashioned word, we want to create a "convivial" atmosphere that's conducive to building relationships, sharing hopes and dreams, and even hatching plans for new projects or new adventures in the months ahead.
Where did the idea for Regent Exchange come from?
Regent is all about integration, about helping regular people—the so-called "laity"—connect faith with all of life. It's part of our DNA not only to care deeply about people's lived realities, but to create contexts in which people can wrestle with the hard questions of the day, and ask what God is doing in the world.
As an extension of this, for the last number of years, the Marketplace Institute at Regent College has really sought to model thoughtful Christian engagement in the public sphere. It is common for the thoughts and experiences of people of faith to be marginalized in a pluralist society. And as Christians, we haven't always known how to engage well in the public sphere. And so Regent Exchange is a continuation of this impetus to say, "as Christians, we have something to contribute, and we'd like to do that in a way that is helpful, positive, constructive."
It sounds like Regent Exchange is very much focused on questions that are significant to Vancouver.
That's right. While we are a graduate school of theology with a global footprint, it's important to "seek the good of the city where you've been placed," to draw on Jeremiah. It's easy to dream big dreams, with visions of global impact. But engaging locally forces you to get practical; to connect these ideas with actual lived realities.
Why are you focusing on the issue of housing?
Housing is one of the greatest challenges facing Vancouver at the moment. It's a topic we first began to explore in the fall, at an event we co-hosted with Q Commons: "Home, Community, and Belonging." We were absolutely thrilled to work with Q, and we learned a lot from them on how to approach these questions.
We quickly realized, though, that it was the local challenges that really inspired our audience. We sensed a deep need to continue the conversation around housing, so we decided to host a follow-up event, this time under our own steam. We hope to host a third event this spring to round out the conversation.
The idea for "Churches and the Housing Crisis" actually came from David Ley, one of our panelists at the Q Commons event. David knew of several churches that had partnered with local developers to create affordable housing. We felt this was an important story to tell, and one that could inspire other churches to explore innovative solutions to housing needs in their own communities.
What topic do you plan to tackle next?
We have some ideas, but we'd really love to hear from the Vancouver community. One thought is to explore challenges around mental health, but we're pretty open right now. If people have ideas for topics for next year's Regent Exchange series, they can email us at [email protected].