J.I. Packer: Still Teaching "the Biggest Thing That Ever Was"
May 04, 2016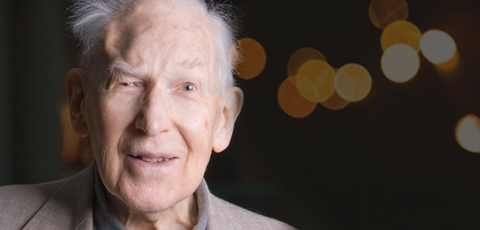 What I shall be saying to my class is, Look! This is the biggest thing that ever was! And we Christians, most of us, still haven't appreciated its size.
On May 3, 2016, Amy Anderson sat down with Dr. J.I. Packer to discuss his upcoming courses, the heart of his theology, and what keeps him teaching after all these years. Dr. Packer is teaching two courses at Regent College this summer: The Anglican Heritage: History and Theology and Colossians
.
I understand that you're teaching two courses at Regent College this summer.
Yes, that's correct.
There were rumours earlier this year that your health might prevent you from teaching. How are you doing now?
At the start of the year, macular degeneration struck my right eye and I feared that my teaching days were over. But I am very thankful to say that my eye is getting better under treatment. It's a great source of praise and thanks for me that I am still able to cope with all the demands of teaching classes.
The classes you'll be teaching this summer are The Anglican Heritage: History and Theology and Colossians. What inspired you to choose those courses?
Well, they are two courses that I've taught before, but I'm very glad to be teaching again.
To start with, I'm heavily committed to Anglicanism. I really do think that the Anglican heritage is the richest in Christendom. And I hope in this course to persuade others that that is so. It's a very great pleasure to be sharing the wealth of that heritage with others.
The Anglican Heritage course generally has a small number of students, between 10 and 15, which allows for a higher degree of real conversation and discussion in the classroom. I've taught it a few times before, and I always tell the students that what I'm trying to do is to give them the feel of Anglicanism as a heritage. That's important, because Anglicans are very heritage-conscious: much more so than some of the other denominational traditions.
The Anglican heritage is complicated, because various theologians have exerted pulls in different directions, and that sometimes bewilders folk. So I try to sort them out. And because I hold such a high estimate of the Anglican heritage, I expect to enjoy myself explaining it. It's always fun to explain something that you think is very valuable and that you want to share.
You've had a chance to see a lot of young pastors come up through the Anglican studies program at Regent College. As you're preparing to teach on Anglican history and heritage, what is your hope for the ongoing vitality of the Anglican tradition?
Well, as I said, I think the Anglican heritage is the richest that's going. There are three key aspects of that heritage for me. Its theology—use of the mind and the tongue to celebrate God and get clear in one's thinking and talking about him. Its worship—being drawn out of yourself by forms of word that move you the way that Shakespeare sometimes moves you.
Not that the Bible and Shakespeare are on the same plane, but Shakespeare does have a way of writing in one or two verses a thought or a picture that shakes you rigid: it goes to the very root of your being and your heart says—wow! You know what I'm talking about? The Anglican Prayer Book contains stuff like that, beautiful and weighty. And that's what the Bible sometimes does, and that's what younger theologians like [Regent College Professor] Ross Hastings can do. And that, of course, is what old sirs like me try to do.
I want my students to get the distinctive feel of Anglican theology, which is a large mass, and Anglican worship, which is beautiful and profound, and, thirdly, the Anglican lifestyle. That's how I like to speak about Anglican ethics, because the word "lifestyle" points to people actually living and enjoying the reality of the life that they're living, whereas if you talk about ethics people just think of codes of specific dos and don'ts. Anglicans prefer to talk about moral theology rather than ethics.
Well, put those themes together—the Anglican way of theologizing, the Anglican way of worship, and the Anglican way of loving God and loving your neighbour—and you've got something rather rich and rather precious. I hope that I can give my students some sense of what it feels like to be an Anglican and why it is that some of us feel that the Anglican heritage is rather grand.
What led you to choose Colossians as your Scripture course this summer?
Colossians is in one way the most profound epistle that Paul ever wrote. In it, he relates the Father and the Son more directly than he does in any other of the letters. And to relate the Father and the Son the way he does, while speaking of God's creation—"all things are created through him and for him"—takes you right into the heart of Christology. It gives you the most fundamental perspective in the New Testament for understanding the faith: namely, that right from the start the Father's purpose has been to glorify the Son by doing literally everything that he does through the Son. Everything: creation, providence, grace and salvation, all of general and special revelation, and the sending of the Spirit who manages the life of the church.
That isn't to say anything which sounds very novel, of course. I think all Christians, all 2 billion of us, would agree that the faith is Christocentric from start to finish. All revelation—all the work of redemption, all hope, and all the wisdom that is being worked out through the providence of God in managing this world—all of that is through Christ and he is to be praised for all of it, just as the Father is to be praised for all of it. As I said, all Christians everywhere know that, so there isn't anything special about it.
But to link that up with the purpose of God in creation and, in turn, to link up the purpose of God in creation with the purpose of God in redemption and restoration, that's a thought! It's a connection that isn't always clear in the testimony and teaching and the understanding of the faith that Anglicans have all around the world, and not only Anglicans—I think this is true of the whole Christian community.
Those who major on Christ the redeemer are rarely as strong as they need to be on the Father and the Son as co-creators. And those who major on the Father and the Son and the Spirit as co-creators and Triune Lord of providence tend to major on that side of things and to underemphasize the breathtaking glory of redemption and the overwhelming majesty of the love of the Father, Son, and Holy Spirit towards us.
Well, Colossians gives you the angle for all that. And if you've got the angle, then it's that much easier to fit in all the details. They're all there, in the New Testament, but often there's a parting of the ways. Passages in the New Testament that highlight redemption, for instance, are strong on the love of the Father, the Son, and the Spirit, but they aren't always as strong on providence, creation, appreciating the natural order, and understanding the dimension of redemption which has to do with the restoring of the natural order. Colossians gives you the perspective and balance for both the creational/providential aspect of things and the redemptive/restorative aspect.
It sounds like it's going to be a fascinating course.
Well, I'm going to enjoy it, because what I shall be saying to my class, in substance, is: Look! This is the biggest thing that ever was! And we Christians, most of us, still haven't appreciated its size. We've been Christians for years and years, and yet we haven't fully grasped it.
You've been studying theology and the Scriptures for many years. What have you found to be helpful to ensure that our Bible reading and our theology is fully formed, rather than one-dimensional?
Well, I think that the quickest way into those concerns and the quickest, most direct way of tracking through them is to start, first, with the Trinity. God reveals himself as a God who acts within a triune identity. We must never lose sight of that.
The second, parallel starting point is that all that's going on in this wonderful world has to do with the renewing of it after it has in some ways—more than we understand, actually—been put out of joint as a result of the entry of sin. In my reading of Scripture, that need for and process of renewal encompasses all of "the world"—everything in the cosmos.
What one needs to remember is that this is a wonderful world, it's a spoiled world, and it's a world which is in the process of renovation. That process is something that escapes our understanding. We aren't able to plot the way in which it encompasses all the things that happen in the natural order—both things that are somehow triggered by human action, like climate change, and things that certainly aren't triggered by human action, like earthquakes on the Ring of Fire.
Can you elaborate on that?
I use that example because it's such a good one. The world was made with the Ring of Fire: it's so obviously part of its composition, makeup, part of God's plan for it. You can't ascribe the Ring of Fire to the entry of sin as though it's only a by-product: at least, I don't think you can. I have found myself talking to people who have a different view, but I don't see how they can maintain it, except by willpower.
In the theology that I believe and teach, more than willpower is involved. The rationality of God—whatever that is, and that's a bigger reality than we can comprehend—the rationality of God is most certainly at the heart of it along with the love of God, that is, the desire to do good to others. That's the raw material. We must never lose sight of that, or allow it to move from the centre.
Which means, actually, that as a teacher of evangelical theology, I find that again and again I want to beat the "appreciate creation" drum in rather the way that people like [Regent College Professors] Loren Wilkinson and Iwan Russell-Jones do. I'm 100 percent in agreement with their appreciation of the created order. But that isn't what you usually get with systematic theologians.
One person who's moving toward this is [Regent College Professor] Ross Hastings. [At his installation into the Sangwoo Youtong Chee Chair of Theology,] he was more brilliant than almost anybody now. He was brilliant on the integration of scientific thinking about the created order in relation to all that we know about the created order—what God is doing with it and what God is going to do with it as he reorders or reconstructs the universe. What Ross is doing is very good.
Near the end of Colossians, Paul writes, "see to it that you complete the ministry that you've received from the Lord." You've obviously taken that charge to heart. What is it that motivates you to keep on teaching, writing, and working?
Well, I think I'd better simply say it's the glory of God. Which means the praiseworthiness of God, displayed by what goes on between you and God, which you can call good works if you like. At the end of the day, God is praised in a way that he wouldn't have been, or more in a particular respect than he would have been, if you hadn't done or said what you did and said in order to glorify him.
Dr. Packer's summer course The Anglican Heritage: History and Theology runs from May 9-20 at 8-11 AM. Colossians runs from July 11-15 at 8-11 AM. For more information on Summer Programs at Regent College, visit rgnt.net/summer.
Meet more of this summer's fantastic instructors! Read our interviews with Gordon T. Smith and Doug Moo.