Warm Reception for Dr. Ross Hastings's New Book
August 08, 2016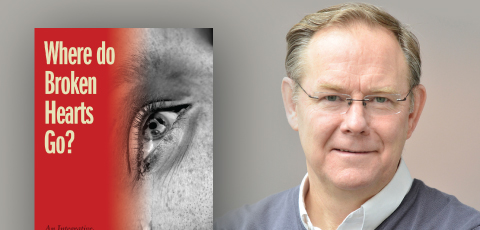 "There is an immense hunger among Christians for rich, substantive teaching on what it means to grieve well."
Regent Alumnus Richard Wu attended the July 28 launch of Ross Hastings's new book, Where Do Broken Hearts Go? An Integrative, Participational Theology of Grief. An enthusiastic crowd filled the chapel to hear Ross's lecture, buying up every copy of the book in the Regent Bookstore that night. Richard Wu reflects on the event:
For a lecture on grief, there was a palpable sense of anticipation in the air. People of all ages and backgrounds filled the chapel, and Ross himself seemed noticeably at ease. "If you're uncomfortable, don't be," he began—a remark that set the tone for the rest of the evening. What followed was a candid, rigorous, and deeply personal account of the psychological and theological dimensions of grief. For Ross, this was clearly terra cognita—territory well travelled and known.
The lecture itself revolved around three particular stories: the story behind his book, the story that transcends grief, and how that larger Biblical story relates to us. Ross recounted the circumstances that led him to pursue this project (including his mystical encounter with the Holy Spirit at a boy-band concert) and reflected on his experience of the stages of grief through the lens of Trinitarian theology. Acknowledging the dissonance between unanswered prayer and a world that will one day be redeeemed, Ross described how God draws near to us in our suffering through the Eucharist, the church, skilled counsellors, and the Psalms. "Where do broken hearts go?" he asks; "To the heart of God the Father as mediated by Christ."
Personally, I was struck by the vibrant engagement of the attendees that evening. This ran counter to the logic of several publishers, who repeatedly told Ross, "Grief doesn't sell; give us joy." The audience's spirited and wide-ranging questions, however, seemed to suggest that exactly the opposite was true: namely, that there is an immense hunger among Christians for rich, substantive teaching on what it means to grieve well. By drawing the distinct voices of psychology and theology into conversation, Ross was able to scratch the surface of this need and offer his own grief to the community as a profound gift. "Adaptation, not resolution or triumphalism" is our goal, he insists. He has certainly shown us the way.
Read an excerpt from Where Do Broken Hearts Go? (used with permission of Wipf and Stock Publishers) or visit Regent Audio to download the lecture Ross delivered at the book launch, available here.