Diane Stinton on Regent's New GoGlobal Initiative
March 21, 2016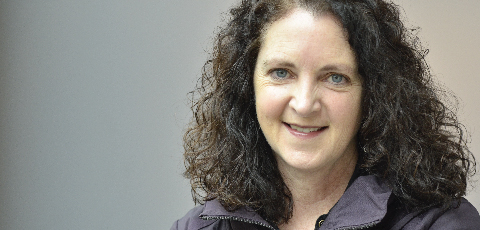 "Something powerful happens when we step beyond the familiarity of our own world and say, 'Could we also come and learn from you, with you, in your own context?'"
Christianity is a truly global faith in the 21st-century, with most of the world's Christians living in the Majority World. Regent's GoGlobal Initiative helps students explore first-hand what it means to live faithfully as part of the worldwide church today.
Following the success of "Into Kenya," Regent College is launching a new course this summer in Costa Rica entitled "Theology and Ministry in Latin America," co-taught by Diane Stinton and Ruth Padilla DeBorst. Timothy Boland sat down with Diane to learn more about this latest GoGlobal offering.
Who is this course for?
It's really for anyone— in the academy, church, or marketplace—who has a heart to learn more about what it means to be part of God's global kingdom. It's about growing in awareness of, exposure to, and engagement with what God is doing globally. It's definitely not just for people looking at long-term cross-cultural ministry or those with previous cross-cultural experience.
How did this course come about? Why choose Costa Rica?
When I first arrived at Regent, part of the plan for the World Christianity concentration was to do on-site courses around the world—not just in Kenya, where my own experience lies, but in Latin America, Asia, and elsewhere.
Now that we've done the course in Kenya a few times, we feel it's well-established and can turn our attention elsewhere. We invited Ruth to the 2013 World Christianity Conference, with an eye towards collaborating at some point with her on a Costa Rica course, so that was the next natural place for us to look. [Editor's note: "Into Kenya" will be offered again in 2017.]
I really can't imagine a better person with whom to learn about Latin American Christianity than Ruth! She's one of the foremost theologians from that part of the world today, who's spoken boldly and prophetically to the worldwide church. She's been a key voice not just for what God is doing in her own context, but also for how you actually do theology while listening to the marginalized.
How does Ruth's work—and this course—relate to the broader picture of evangelical Latin American theology, and what it offers to the global church?
I think when people hear about Latin America, they usually think "liberation theology," especially Gutierrez and the Catholic liberation theologians. What's much less known is the evangelical voice of "integral mission" that has addressed the same questions over the same time period. Evangelical theologians in Latin America have been responding to the contextual issues of injustice, poverty, oppression, gender discrimination—giving voice to key insights of the Gospel that help us engage these real-life realities. I think this class is an opportunity to highlight and learn from this remarkable evangelical contribution to global Christianity.
The course description mentions learning "both intellectually and experientially through personal and critical engagement with theology and ministry in San Jose." Can you unpack the kind of "engagement" that the course involves?
The GoGlobal courses are more than just a normal class in an exotic location. As in Kenya, we'll be integrating academic lectures, church involvement, and site visits to various ministries in the area. Our intent is to create a true relational learning opportunity. Our first goal is not to "do," but simply to be in context, to listen and to learn, in order for us to be transformed no matter where we end up in the world.
That said, at Regent, we talk a lot about "head, hands, and heart," and it's important to me to take the "hands" part seriously. It's easy for visitors to become a burden, and I want to make sure we're not doing more harm than good, so we'll be limited in what we try to do. But I do want us to go out, roll up our sleeves, and work practically and humbly in true partnership.
That's another reason why it's so important for us to be working with Ruth: we need someone on the ground who can make sure we do these things in ways that are not unduly burdensome to the ministries already at work. In Kenya I myself had the experience and contacts to make sure we did that sensitively, and in Costa Rica we're very blessed to have Ruth play that role.
Would you tell us a little more about the overall vision for GoGlobal courses? How do they fit into the curriculum at Regent more generally?
We have students coming to us from all over the globe, with their distinctive worldviews and experiences, and we gain so much from having them here! But something powerful happens when we step beyond the familiarity of our own world and say, "Could we also come and learn from you, with you, in your own context?"
That may be across the world or across the city—whatever it takes to give us new eyes to step into other people's lived situations, to encounter what God's doing in their midst and witness first-hand their questions, their struggles, and their celebrations in living out the Gospel where they are.
Ultimately, no single center, no single school, can do World Christianity. We need to collaborate with one another so that we learn to see this Gospel from different vantage points. By actually going to Latin America, it also teaches us more about our context here in Vancouver, our issues with indigenous people, our issues with materialism and socioeconomic division. Many of these issues, which can be shared across cultural contexts, you learn to see differently when you see them from afar, with people who have fresh eyes. So I'm very, very excited about what lies ahead.
For further course details and registration, visit the Summer website. To donate to the GoGlobal bursary fund and help students who otherwise couldn't afford this transformative learning opportunity, give online here.