Jens Zimmermann to Serve as Visiting Professor at Regent College
July 07, 2016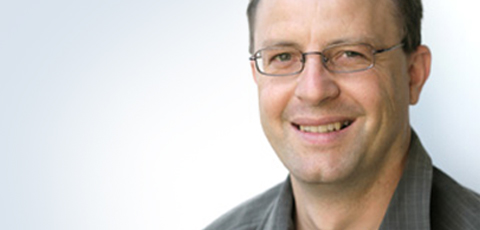 "Jens Zimmermann is a first-class Christian scholar whose presence strengthens the Regent community."
Regent College is pleased to announce the three-year appointment of Dr. Jens Zimmermann as the Visiting Professor of Philosophy, Literature and Theology, effective January 2017.
Dr. Zimmermann will have a dual appointment at Regent College and Trinity Western University, where he has held a Canada Research Chair in Interpretation, Religion and Culture from 2006 to 2016. He will be at Regent for six months of each year, teaching courses, supervising student projects, and participating in the full community life of the college. During the remaining months, he will continue at Trinity Western.
Regent President Dr. Jeffrey Greenman welcomes the appointment, stating, "Jens Zimmermann is a first-class Christian scholar whose presence strengthens the Regent community. His teaching and writing have explored the intersections of theology, philosophy, and literature, making him an ideal contributor to Regent's pursuit of serious interdisciplinary Christian thinking. I am delighted to welcome him to our faculty."
In January of 2017, Dr. Zimmermann will teach two courses, one on Dietrich Bonhoeffer's Christian Humanism and another on Explorations in European Literature.
Dr. Zimmermann was born and raised in Germany. He studied at the University of British Columbia, earning his first PhD in Comparative Literature in 1997. He taught at UBC briefly before moving on to Trinity Western, where he has been for the past seventeen years. In 2010, Dr. Zimmermann earned a second PhD in Philosophy from the Johannes Gutenberg University, Mainz, Germany.
Dr. Zimmermann has edited and authored numerous books, including Hermeneutics: A Very Short Introduction (Oxford, 2015), Whose Will Be Done?: Essays on Sovereignty and Religion (with John Dyck and Paul Rowe, Rowman & Littlefield/Lexington, 2015), Humanism and Religion: A Call for the Renewal of Western Culture (Oxford, 2012) and Incarnational Humanism: A Philosophy of Culture for the Church in the World (IVP, 2012). His main intellectual interests are anthropology (who we are) and epistemology (how we know). He has pursued these two central questions across a broad range of interests that include theological anthropology, hermeneutics, European literature, Martin Heidegger, Hans-Georg Gadamer, Dietrich Bonhoeffer and Hans Urs von Balthasar.