Remembering Rob Des Cotes
April 14, 2016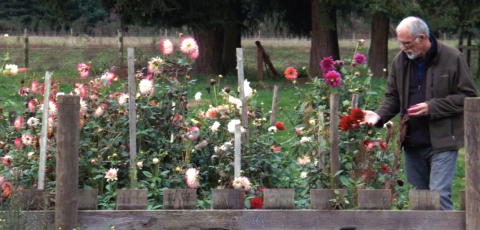 "Rob pointed us to Jesus."
It is with a deep sense of loss that we grieve the death of Rob Des Cotes, beloved pastor, spiritual director, and friend. Rob passed away on Wednesday, April 6, 2016, surrounded by his family. He is survived by his wife Ruth and their three children, Rachel, Michael, and Luke.
Rob's life was marked by the passionate pursuit of God and a longing to see others drawn into that same pursuit. He came to Vancouver as a young man, first serving as a pastor at Capilano Christian Community before moving to Fairview Church. In the last years of his life, he moved with his wife Ruth to A Rocha Brooksdale Environmental Centre in order to focus on spiritual direction and the facilitation of contemplative prayer. Whether he was leading worship in church, joining others in prayer, or playing jazz in a downtown club, Rob's quiet evangelism, gentle spirit, and deep love drew people to Christ.
Rob's journey into spiritual direction grew through Soul Stream. In the words of long-time friend Lynne Smith, "It was like he'd found home." In time, Rob's passion for spiritual direction and the contemplative life led him to establish Imago Dei, a network of faith communities encouraging the practice of prayer and a transforming relationship with God.
Rob had a profound impact on the shared spiritual life of Regent College. In addition to leading prayer retreats, seminars, and contemplative prayer at the College, he served as a friend and spiritual director to many within the Regent community. Jeff Greenman, President of Regent College, noted: "Rob Des Cotes spread the aroma of Christ everywhere he went. I am deeply grateful to God for Rob's ministry to me personally and to many of our staff and faculty, especially during the past two years. Throughout a challenging period of institutional transition, Rob came to campus regularly to lead us in prayer and to offer spiritual direction or pastoral support."
"Rob pointed us to Jesus. He invited us to seek the face of God and to cultivate a deep relationship with the Lord through prayer. Rob's gentle and gracious presence will be long remembered and deeply missed."
A service in celebration of Rob's life will be held at Fairview Baptist Church, 1708 W 16th Ave, Vancouver, BC, on Saturday, April 16 at 11 am.
---
Rob Des Cotes on Worship, Beauty, and Biology
Watch Rob speak on matters close to his heart, in a video made in preparation for the 2015 Pastors and Church Leaders Conference.