Mark Buchanan: Working for Reconciliation
June 21, 2016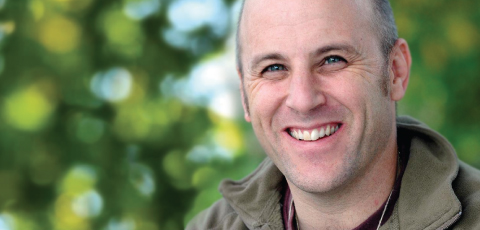 "Reconciliation is at the core of the gospel. ...As Christians, we need to be living that out in a rich, authentic way. "
Mark Buchanan (MCS '89) worked as a pastor for 24 years before becoming Associate Professor of Pastoral Theology at Ambrose University in Calgary, Alberta. He is a popular speaker and the author of several books, including Your Church is Too Safe: Turning the World Upside Down. We spoke with Mark about his upcoming course, For the Healing of the Nations: The Message and Ministry of Reconciliation, running July 18-22.
Your upcoming course focuses on the ministry of reconciliation. What does reconciliation mean to you?
Well, the apostle Paul is responsible for shaping our biblical understanding of reconciliation. In Colossians 1, Paul's portrait of the cosmological work of Christ is fundamentally about Christ's reconciling work. In Ephesians 2, his theology of the cross is primarily a theology of reconciliation. And in 2 Corinthians 5, the heart of the message that believers are called to proclaim is a message of reconciliation.
If you unpack Paul, he's got a very Jewish understanding of reconciliation. It's not just about peace with God: the peace that God brings to us is being expressed, manifested, and worked out with all humanity, beginning first with the person we're most estranged from.
In the course, we'll be looking at the need for reconciliation on all levels: with God, within ourselves, with the people in our lives, in a more corporate setting, and within ministry. We'll examine larger social reconciliation in places like post-apartheid South Africa, Bosnia, Eastern Europe, and Rwanda. We'll also look at more recent historical stuff: things like the current situation in Syria and what that will look like when the dust settles, and of course the Truth and Reconciliation Commission ["TRC"] in Canada.
In the process, we'll set out what reconciliation looks like philosophically and theologically. Towards the end of the course, we'll also unpack strategies for reconciliation. Some of these will work primarily at a more intimate level, but others have been used in large-scale reconciliation processes following huge atrocities or injustices.
What first inspired you to engage with the idea of reconciliation?
That's a deeply personal story. After spending some time as a pastor, I began to wonder about the mystery and the tragedy of preaching the gospel of Christ and yet having a broken relationship myself. I didn't seem to have capacity, wisdom, or strength to overcome the barriers and divisions between me and this other person. I began to say to myself, "There's a falsification where I'm preaching the mystery and power of the finished work of Christ on the cross and yet I'm angry at that person over there—not wanting to speak to them, not trusting them."
So, my interest in the topic is deeply personal, but it was also the product of pastoring for 24 years and seeing similar dynamics in the church: watching people who were friends for years fall out and become embittered towards each other—maybe even want to do harm to each other.
I didn't go to divinity school and wasn't trained to be a pastor, so perhaps in theological institutions there's more emphasis on this theme and subject than I was exposed to. But I was quite alarmed, when I got into pastoral ministry, to realize how unprepared I was to deal with day-to-day conflicts at a pastoral level. Because of that, I really focused on learning about it: biblically, theologically, and pastorally.
When I began teaching at Ambrose, I noticed that there were no courses on reconciliation at most theological schools. I looked elsewhere, but apart from Duke Divinity, which has a whole Institute of Reconciliation, there was nothing. I thought, "There's something missing here."
Reconciliation is at the core of the gospel, but we really lack training in practical skills. I want to provide pastors with skills and strategies for offering the ministry of reconciliation both within the church and to the world around us. As Christians, we need to be living that out in a rich, authentic way. It's not about conformity or uniformity or a ministry of appeasement. When we work through really difficult things in a way that loves and honours the other, we come out richer and more committed to the other in the mission of God. If we don't know how to do that in the church, it guts our authority as we try to bring the ministry of reconciliation to the world.
This summer, you'll be offering a Public Lecture at Regent on Canada's recent Truth and Reconciliation Commission. How much overlap is there between the theological concept of reconciliation and the vision of reconciliation sought through the TRC?
Well, the TRC was an exploration, a recovery of the stories from First Nations people about their experience of residential schools. Those schools for 100+ years defined the experience of many First Nations communities. Even if a person in one of those communities has never gone to residential school, the legacy of the residential schools often lives on in the experience of their home life and their community. The focus of the TRC was to recover the history of what happened so that we might respond to it in a healing way, so that we might not repeat it, and so that we ourselves, both First Nations and non-First Nations communities, might understand what happened here.
The TRC hearings were in many instances church-run. Even though the TRC as conceived and executed from 2007 to 2015 wasn't Christian in foundation or orientation, it was addressing a failure of the church to embody the gospel in a loving, caring way of blessing. So, in that sense, we as Christian people are implicated, even if our church denomination wasn't. We need to own what's gone on here, and we need to rise up to respond out of a spirit of repentance and out of a desire to heal the divisions that have come out of that history.
How do you see your role in regard to that process?
Well, if that movement toward healing and reconciliation is not on the heart of Christians, I'm doing my part to bring it to them: not to shame them into it, but to point out that this is an unbelievable opportunity that the First Nations have given to the church.
By issuing calls of action, the TRC has invited the church to make some kind of response. To me, this is like someone from across the table from me saying, "This is how the people that you represent have done deep hurt to me. Will you do these things to help me and my people recover?" I can't see a single Christ follower denying that request, but my concern is that so many Christians from outside the First Nations community don't even understand that the request has been made.
I just finished a twelve-city tour with World Vision talking about how church communities can address the First Nations community, especially in regard to the TRC. What I'm finding is that probably only 5% of church leaders are even aware of the calls to action that have come out of the TRC. I don't think this is about malice: I think we're distracted. I'm watching rooms of church leaders, and when they find out about it, they do care: they do want to respond. So I'm on a mission to raise awareness.
What do you hope your students take away from this class?
One of the assignment options for the students is to build a tool kit for reconciliation in the church. Students are not required to address the TRC, but what I've found is that probably 80% of them choose to do so. I'm hoping that they will be advocates to the church, whether as pastors or members of a faith community or ministry: that they'll go back and say, "Hey, this is what I've learned about the TRC's calls for action, and I've come up with some strategies, and I'd happily lead a response to this."
Second, I'm a little surprised to realize how few non-First Nations Christians have a single First Nations friend. I'm urging people to try to change that: partly because they're depriving themselves of really good company, and partly because reconciliation is a ministry that has to function at a really intimate level. I would love to see every non-First Nations person in the church begin to be really open to walking in genuine friendship with at least one First Nations person. There will be broader dimensions to the kind of changes we're hoping for in our own lifetime and in generations to come—political, economic, cultural aspects—but all of it's going to be based on personal friendships and relationships.
Is there anything else you'd like people to know about the class?
I think people will be surprised by how fun and practical it's going to be. There will be lots of interaction and role-play, getting people to step into a scenario that needs reconciliation and really exploring together what that might look like. It's going to be a lot of fun.
To learn more about Mark's course, For the Healing of the Nations: The Ministry of Reconciliation, visit our Summer Courses page. On July 18, 2016, Mark will also be offering a free public lecture at Regent College on Canada's Truth and Reconciliation Commission, entitled "Every Tribe & Tongue & Nation: The Church and Canada's First Nations." Find out more.