Jason Goode on the Making of His First Feature-Length Film, Numb
February 29, 2016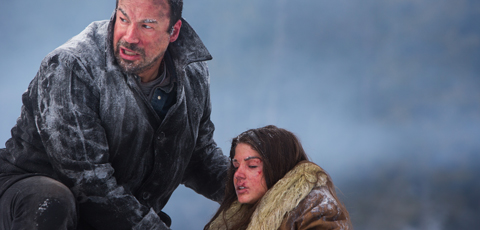 "I see the value in all kinds of stories. You wouldn't watch any of my films and go, oh, that's a Christian film. But I like to think that all of them are gospel films in that they're telling a piece of that story, the larger vision of life." - Jason Goode
Jason Goode is a Regent College alumnus with a storytelling bent. His first full-length feature film, Numb, was a top 5 pick at Whistler Film Festival and is set to be released in theatres across Canada this week as part of the Canadian Indie Film Series. Numb tells the story of four people who set out into BC's snowy wilderness in search of stolen gold. To learn more, visit Numb on Facebook or check out showtimes with Landmark Cinemas. Amy Anderson sat down with Jason Goode to learn more about the making of the film.
Can you tell us a bit about your path as a filmmaker?
Well, it started at Regent. I'd been studying under Bruce Hindmarsh in Saskatchewan before he came to teach at Regent and I came to a real soul awakening that led me into the arts. I really wanted to make films, but I didn't know how to do that or what it meant.
Then my wife Christie and I decided to finish our degrees at Regent. When we got there, I discovered that there was a group of students who were trying to make films. They didn't really know yet what they were doing, but they were going for it. I joined in and became part of that community. And then Regent responded really actively to that group of students, and we started getting our first film classes. Most of us are still making films today, and Regent was a huge part of that.
In the twelve or so years since I graduated, I directed five short films but had a lot of feature projects not get off the ground. I just chipped away, working with Dylan Jenkinson and making short films. Making this feature film has been a big step for me.
You earned an MA in Church History from Regent. How has that experience affected your filmmaking?
My life is infused with the gospel and a greater vision of what that means in the world. I see the value in all kinds of stories. You wouldn't watch any of my films and go, oh, that's a Christian film. But I like to think that all of them are gospel films in that they're telling a piece of that story, the larger vision of life that I learned first studying under Bruce in Saskatchewan and then, under all the profs at Regent, especially Loren Wilkinson.
At Regent, I went from thinking that the arts aren't really a legitimate enterprise to thinking that they're vitally important, no matter how financially inefficient they are in terms of a career. I developed a strong sense that this is what I'm supposed to be doing. I wouldn't be making films if not for Regent College.
What led you to make Numb?
Any time you try to get a feature film made, you have to ask yourself, "am I willing to spend the next four years on this?" I first received the draft for Numb about five years ago. It was about a couple who had just gone through financial catastrophe and were struggling through that together. At the time, my wife Christie and I had just gone through a similar financial ordeal, so I really resonated with the couple in the film. I could see the temptation to venture out into the wilderness in search of something that might solve all your problems.
As I look back, all of my films reflect the dance of intimacy between people who are thrust together in a situation in which they wouldn't normally interact. Those kinds of situations are always fascinating to me. It's fun to play with those expectations, those characters and their interactions.
What parts of the actual filmmaking process did you particularly enjoy?
In terms of actually shooting the film? Almost nothing. [Laughs] I know it's popular in celebrity media to talk about how much fun a movie was to make. They're all lying. Movies are just difficult. Pre-production and post-production are the really thrilling bits. During actual production, you're just trying to survive.
Of course, there are highlights. I always love working with actors: what they do just blows my mind. There were lots of wonderful moments where they did something unexpected and created something I never planned on. My team was also great. Working with my producing partner Dylan Jenkinson was wonderful: to finally be able to prepare a feature film together was really special.
But production itself is hard. You're actually trying to recreate a world: the look, the light, the colours, the design. We were shooting in the winter, out in the middle of nowhere. In winter, the days are short: there isn't much light. Your equipment breaks down from the cold. And the weather was constantly changing. We have a big epic scene on a frozen lake and the weather changed and we thought we might lose all the ice. When you're in production you're just constantly prioritizing, trying to figure out what you can tear out of the script in order to just get a film together. When you're doing that day after day for weeks, it's hard.
Is it worth it? Will you still keep making movies?
I think it's like childbirth. Any time you're creating something in any art, you're labouring. When you're in the middle of it, the hardest part of that labour, most of us are tempted to think, "I'm never going to do this again." But then you birth this child, and you realize it was worth it. In the midst of that, in the heart of the crucible, it's tough: I lost lots of body weight, and wasn't even sure if I'd have a movie at the end of it. Our budget was so small and we were reaching for something really big, working in the outdoors. But in the end, the film turned out really well.
What would you say to someone who's interested in getting into filmmaking?
I would say, first, find a community of filmmakers. You can't do it on your own: nobody does. That's why when you hear about really successful filmmakers, there are always pockets of them. You need to find people who are making films that resonate with who you are, in terms of your spirit, but also are aiming in the right trajectory in terms of their filmmaking. That's what I found at Regent. When that community dispersed, I partnered with Dylan Jenkinson, my producing partner.
What's next for you?
Dylan and I put a lot of projects on the backburner when Numb was green-lighted, so we're pulling those off the shelf and poking around at them to see if they still have life. The film itself is also opening some doors in terms of meeting people and making connections.
Where can people see Numb?
The film will be released across Canada in Landmark Theatres on Wednesday, March 2 as part of the Canadian Indie Film Series. It will be running for a week afterwards (March 4-10) in several of the venues and will be showing a little later (March 11-17) in Regina and Saskatoon. If people are interested, they can check out showtimes through the Canadian Indie Film Series or buy tickets online.