CRUX Interview with Wendell Berry Wins 2016 EPA Award
April 21, 2016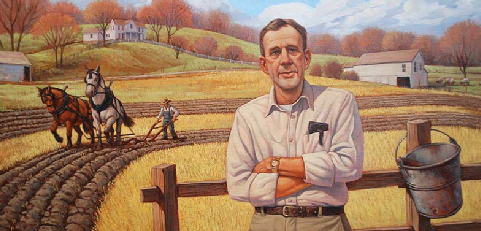 "Hope is difficult. But it's a virtue, you know. It's required."
On November 8, 2014, Regent alumnus Chad Wriglesworth sat down with prolific author Wendell Berry to discuss work, sustainability, and eternity. The conversation, which took place at the South Atlantic Modern Language Association Conference in Atlanta, Georgia, was first published in the Spring 2015 edition of CRUX.
We Are Still Near the Beginning: A Conversation with Wendell Berry has been awarded First Place in the Interview Article category of the Evangelical Press Association's 2016 Higher Goals Awards. Please join us in congratulating Wendell Berry, Chad Wriglesworth, and the editorial staff of CRUX for this significant achievement.
We are grateful to Wendell Berry, Chad Wriglesworth, and CRUX Senior Editor Julie Lane-Gay for graciously permitting the distribution of this exclusive article to the broader Regent community. For more information or to subscribe to CRUX, click here.
---
CW: Wendell Berry, thank you for being here with us this morning. This is truly a great pleasure for me, and I'm sure for many people in this room.
While working on Distant Neighbors, I stumbled across many things about your life and work that I now realize are quite important to who you are and what you do. So I thought we might begin by talking about the relationship between work and sustainability...