Meet Regent's Newly-Elected Board Members
July 28, 2023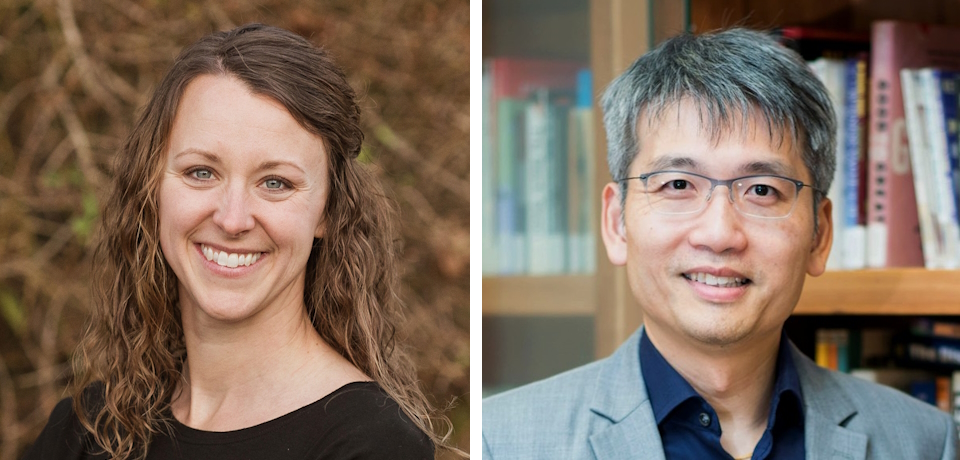 "Jenna and Vincent bring important experience and valuable perspective to our shared work of pursuing the mission of Regent."
In March 2023, Regent College introduced ​​a new process for adding members to the College's Board of Governors via election by Regent degree-holders. Today, we are able to share the outcome of that process.
The Regent College Board of Governors is pleased to announce that Jenna Fabiano (MDiv '17) and Vincent Kong (DipCS '05, MATS '07) have been elected and confirmed to the Board. Their three-year terms will commence on September 1, 2023.
President Jeff Greenman expressed his delight at the appointment of candidates from Regent's first-ever Board member election. "Regent is blessed to have an amazing number of talented alumni who are eager to support and serve the College. I'm looking forward to working with Jenna and Vincent as our newly-elected Board members. Each brings important experience and valuable perspective to our shared work of pursuing the mission of Regent in these challenging times."
Jenna Fabiano lives in Coquitlam, BC, with her husband, Daniel, and their young son, Malakai (Kai). She works as a pastor at Willoughby Church in Langley. Jenna has a passion for studying and teaching Scripture, as well as leading and facilitating conversations regarding faith and discipleship.
Vincent Kong lives with his wife, Marsha, in Hong Kong, where he works in the field of sustainability. Vincent is passionate about giving lay Christians the opportunity to receive sound biblical and theological teaching, and he is active in both his church and the Regent alumni community.
Board Chair Earl Phillips expressed his gratitude to Regent's alumni community for its role in electing these two new Board members. "I very much appreciate the hundreds of Regent grads who participated in the election, both by nominating outstanding candidates and then by voting. The result is two new Board members with a variety of gifts and perspectives. I'm confident that Vincent and Jenna will make great contributions to Regent through their service on the Board."
Both newly-elected Board members expressed their enthusiasm for Regent College and the opportunity to serve on the board.
Jenna said, "I feel so honoured to have been elected by my fellow alumni to be a member of the Regent College Board, and I look forward to serving this team and the greater Regent community however I can. My years at Regent were highly formative in my own faith journey, so this is truly a significant and wonderful privilege for me. Thank you for entrusting me with this responsibility, and please continue to pray for us as we seek Christ's direction for our College."
Vincent said, "Over the past 50 years, Regent College has attracted students from all over the world in every vocation and field. These students, including myself, were enabled to live more thoughtfully in varied vocations in the church and the world. I look forward to working closely with the Board to pass on Regent's global mission and vision to another generation. May the gospel we are entrusted with apply to every aspect and every arena of life."
Regent's Board of Governors would like to thank all 15 candidates who stood for election and all the graduates who participated in this process by nominating and voting for candidates.