Dr. Paul Spilsbury to Serve as Acting President of Regent College
January 20, 2023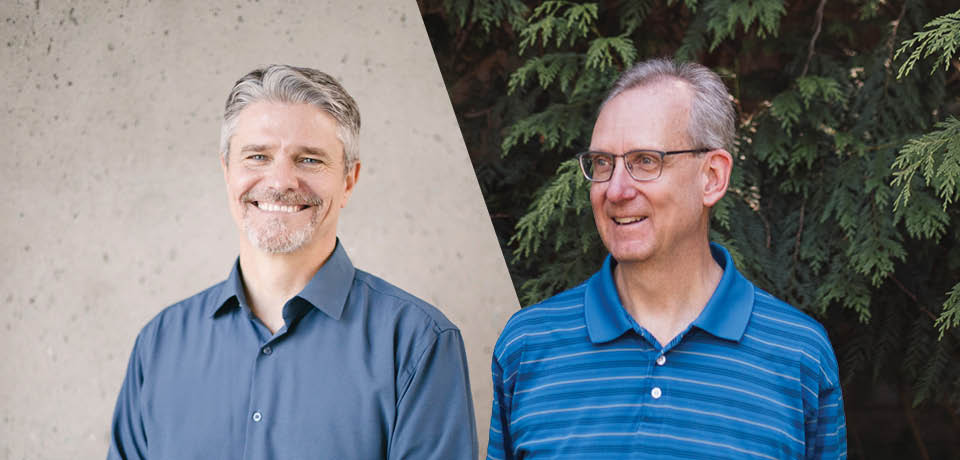 "I have full confidence in Paul's leadership and know he will be a great steward in my absence."
This spring, Academic Dean Paul Spilsbury will assume the role of Acting President of Regent College. This temporary transition, authorized by the Board of Governors, will be in place while President Jeff Greenman is on sabbatical during February, March, and April of this year.
This sabbatical comes after the completion of Regent's successful Deep Roots Wide Reach capital campaign, to which Dr. Greenman dedicated a great deal of his energy over three years. Providing an idea of his plans, Dr. Greenman writes:
"My wife, Janet, and I have a wonderful opportunity ahead of us. We'll be spending time in beautiful Melbourne, Australia, where I will serve as a visiting scholar at Trinity College Theological School. We're looking forward to getting acquainted with faculty members and students from outside our Regent circles and taking part in their activities. As an extra bonus, we get to teach a weekend workshop on food and faith, similar to what we've held here at Regent.
"As many may know, 'sabbatical' comes from the biblical word 'Sabbath.' At its core is ceasing from work to rest. It's an occasion for remembering God and one's own creaturely dependence on Him. My work as President of Regent College has been some of the most fulfilling that I've ever undertaken—and I love my job! Embracing true sabbatical will allow us an opportunity for deep rest, unhurried reflection, and the renewal of body, mind, and spirit. It may seem odd to non-academics, but the chance to simply read and write will be very restorative for me, as will pursuing creative projects related to my specialty in Christian ethics.
"While I'm away, the Board has appointed our Vice-President and Academic Dean, Dr. Paul Spilsbury, to be Acting President of Regent College. Having worked closely with Paul for seven years, I have full confidence in his leadership, and I know he will be a great steward during my absence, having already earned the respect of faculty and students alike."
For the duration of Dr. Greenman's sabbatical, matters relating to administration of the College may be referred to Acting President Dr. Paul Spilsbury ([email protected])