Dr. Cindy Aalders Promoted to Associate Professor
January 30, 2023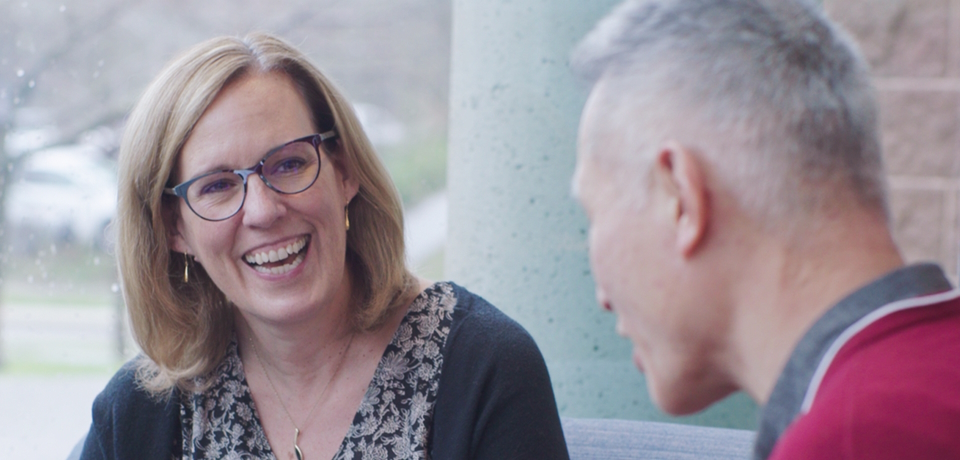 "Dr. Aalders has excelled as a scholar and teacher who is deeply appreciated by her students and colleagues alike."
The Board of Governors of Regent College is delighted to announce that Dr. Cindy Aalders has been renewed as Director of the John Richard Allison Library without term as of November 1, 2022. In addition, Cindy has been promoted to Associate Professor of the History of Christianity.
Cindy holds a BSc from The King's University and two degrees in Spiritual Theology from Regent College (MCS '02; ThM '07). She completed her doctoral studies in 2014, earning a DPhil in History from the University of Oxford. Her doctoral thesis (forthcoming from Oxford University Press) focuses on the spiritual lives and manuscript cultures of 18th-century British women.
Prior to her time at Oxford, Cindy served on Regent's staff in a number of capacities, including Director of Admissions. In 2016, the Regent community welcomed her return as Acting Library Director and sessional faculty member. Cindy was appointed to the role of Assistant Professor of the History of Christianity and Director of the John Richard Allison Library in May 2018.
Reflecting on her promotion, Cindy said, "It is my joy to serve as both Associate Professor of the History of Christianity and Library Director at Regent, a place that shaped my own life, mind, and spirit as a student. Then, I couldn't have imagined a future that enabled me to take on these dual roles, but I can now say there's nowhere else I'd rather be and nothing else I'd rather be doing. I've always been a bookish person, so to be able to spend my days reading and writing books, teaching students about books, and buying books is an extraordinary gift. And to be able to do these things in the company of my brilliant and faith-filled faculty colleagues, my creative and dedicated staff, and Regent's truly amazing students is endlessly rewarding."
Academic Dean Paul Spilsbury warmly welcomed Cindy's promotion. "Dr. Aalders has excelled as a scholar and as a teacher who is deeply appreciated by her students and colleagues alike. Cindy is fully engaged in the Regent community as a friend and mentor to many and serves as an exemplar of what it means to be a Regent College faculty member."
President Jeff Greenman described Cindy as "a great gift to the Regent community. She is a highly talented classroom teacher whose classes offer a wonderfully holistic and integrative approach to Christian learning. Beyond that, her historical scholarship brings us new and important insights that emerge from her deep love of dusty archives."
Cindy's areas of expertise include 17th- to 19th-century religious history, women's and gender history, historical letters and diaries, and children and religion. Her teaching and scholarship use the tools of archival research to recover lost voices, drawing attention to the spiritual and theological writings of those whose words are rarely heard in the academy or the church. She is also well known for her ability to bring historical insights to contemporary challenges and conversations. In particular, her teaching and speaking on family and friendship encourage members of the Regent community to think more broadly and deeply about their lives and relationships.
Jeff and Paul also expressed their gratitude for Cindy's "outstanding leadership" of Regent's library. Jeff observed, "Even beyond her academic gifts, Cindy brings vision and creativity to her stewardship of the library, which is the very heart of our College. We are tremendously grateful for all of her varied contributions."
Paul concurred. "Dr. Aalders's leadership of the library has been outstanding in every way. She has not only managed the myriad technical aspects of the library during complex and trying times but also built an excellent and thriving team."
Over the past seven years, Cindy has led Regent's library through a number of major structural and technical transitions. In 2020 and 2021, Cindy and her team went to extraordinary lengths to maximize students' access to library resources and services amid Covid restrictions. For many students, the library's user-friendly website and whimsical social media presence provided both an academic lifeline and much-appreciated moral support.
In addition to numerous journal articles and book chapters, Cindy is the author of To Express the Ineffable: The Hymns and Spirituality of Anne Steele (Paternoster, 2008). Her current research explores the religious lives of 18th-century children.
Cindy will be teaching a course on Spiritual Friendship as part of Regent's 2023 Summer Programs. For more information on this and other summer courses, visit rgnt.net/summer.