David Ley Appointed to Order of Canada
January 20, 2023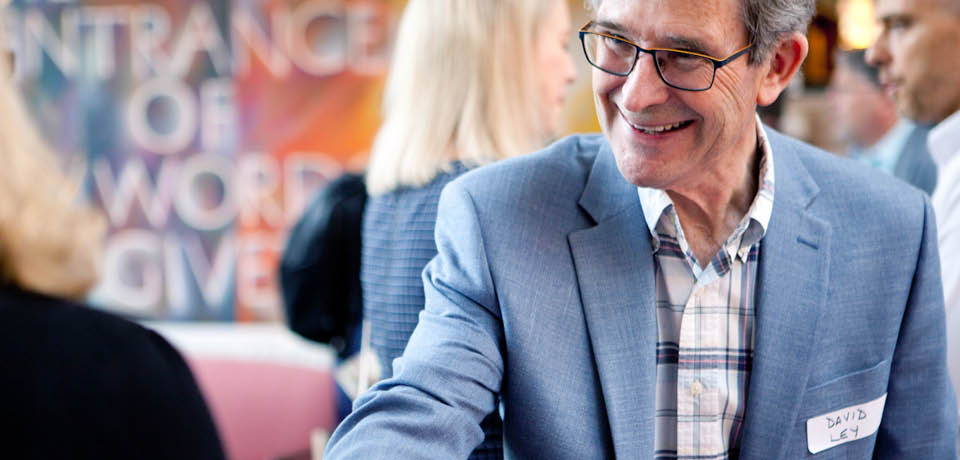 "This is a marvellous honour for David, and one that is richly deserved."
Regent College is thrilled to congratulate Board member Dr. David Ley on his recent appointment to the Order of Canada. This is one of the country's highest civilian honours and distinguishes those who have made remarkable contributions to our nation.
David, Professor Emeritus of Geography at the University of British Columbia and a long-serving member of Regent's Board of Governors, was recognized for his "ongoing and substantial contributions to the field of human geography." The announcement was made on December 29, 2022, by Her Excellency the Right Honourable Mary Simon, Governor General of Canada.
David grew up in the UK and came to Canada after completing his doctoral studies at Penn State University. Since then, he has centred his research on uncovering the complex relationships between large cities, their neighbourhoods, and social groups. As a regular contributor to media outlets like the CBC and the Vancouver Sun, David is helping to bring awareness to major issues such as gentrification, housing affordability, and immigration's effect on urbanization—making a high-impact difference to our future.
Despite downplaying his own impact when asked about the honour, humbly attributing it "as much to grace as to works," David and his contributions to Regent College and our community at large are widely appreciated and a true testament to both their quality and constancy.
Regent President Jeff Greenman offered David his warmest congratulations. "This is a marvellous honour for David, and one that is richly deserved. David has been a faithful friend and supporter of the Regent community for fifty years, and we've benefitted immeasurably not only from his service to the institution but also from his insight into what it means for us to be rooted in a particular place. To take just one example, his famous bus tours have helped generations of students become more thoughtful, engaged, and empathetic neighbours, both here in Vancouver and in their home communities."
Up until the pandemic began, David's city tours from campus had become a staple in Regent life and were an annual summer event. Alongside alumni, staff, students, and other guests, David would chart out a bus tour around downtown Vancouver, its inner districts, and nearby suburbs to show how a city could be understood by looking at its urban landscape. He pointed out signs of how postmodernity and pluralism were impacting neighbourhoods and urban spaces and made a case for the city as a mission field.
It was Jim Houston, Regent's founding principal, who introduced David to the College and what would become our renowned Summer Programs—something that would make a lasting impression on David. He looks back on Regent's early years with fondness, as a time when connections were made and lasting memories created.
"When I arrived in Vancouver in the summer of 1972, the Houstons were kind enough to put me up for several weeks, and Jim introduced me to Regent's summer school," recalled David. At the time, both men were working in UBC's geography department.
"My clearest memory was of a pool party that hot summer, with Ward Gasque dramatically entering the pool as a cannonball, and water spraying to second-floor windows!
"It was a very convivial time, with groups of students going out for dinner together once classes were through."
Throughout his five-decade career and even since his retirement in 2018, David has shown a commitment to improving cities in Canada and worldwide. This drive for betterment led David to publish several books, including Millionaire Migrants: Trans-Pacific Life Lines (Wiley-Blackwell, 2010) and Housing Booms in Gateway Cities (forthcoming). His work truly embodies the Order of Canada's motto, which is based on Hebrews 11:16, DESIDERANTES MELIOREM PATRIAM (They desire a better country). Please join us in celebrating this momentous occasion.