Announcing Regent's First Board Member Election
March 28, 2023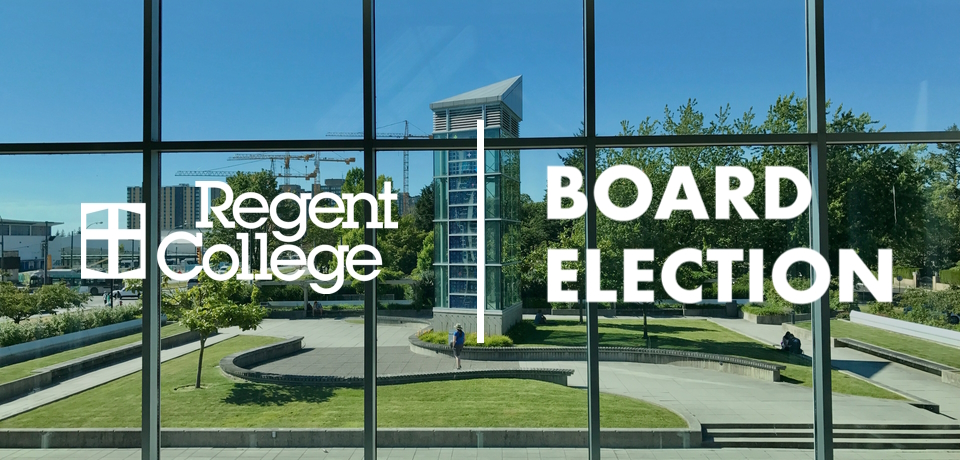 "I'm delighted that Regent degree holders will have the opportunity to make their voices heard in such a concrete way."
Regent is introducing a new process for adding members to the College's Board of Governors. Beginning in 2023, all alumni who hold a Master's degree from Regent College will be eligible to nominate and vote for two new Board members every three years.
Current Board Chair Earl Phillips is enthusiastic about this new recruitment process. "This is an exciting step for the Board of Governors," Earl said. "Implementing this process reflects an aspiration written into Regent's founding documents: to give alumni a voice in the governance of their alma mater. I'm looking forward to seeing this process unfold and to welcoming two newly elected members onto the Board later this year."
Associate Director of Advancement Christina Lui is equally excited. "As the Director of Regent's Alumni Engagement team, I have the privilege of interacting with Regent grads almost every day. This is an incredible group of people who care passionately about Regent College, its mission, and its future, and I'm delighted that our grads will have the opportunity to make their voices heard in such a concrete way."
Regent's first Board election will take place between April and August 2023, unfolding as follows.
Degree holders will have four weeks (April 17–May 12) to nominate candidates.

The Board will vet the nominees and put forward willing and eligible candidates for election. Candidates will be announced the week of June 12.

Degree holders will vote on the slate of candidates (June 19–July 7).

New Board members will be announced in early August, and begin their term on September 1, 2023.
Additional information about the election process, voter and candidate eligibility, and the duties associated with Board service can be found on Regent's alumni website.
Christina offered the following encouragement to Regent's degree holders. "I hope every eligible voter will thoughtfully and prayerfully consider this opportunity to nominate and vote for new Board members. We're genuinely excited to hear from you, so please be sure to review the election process and get ready to participate in the coming months!"
---
Information for Regent Degree Holders
Nominations and voting will take place entirely online and will be run by a third-party service called ElectionBuddy. If you hold a Master's degree from Regent College and Regent has your email address, you'll be contacted by ElectionBuddy to participate in the nomination and voting processes.
If you want to make sure you receive election materials:
To ensure you receive election-related messages at your preferred email address, please update your contact information using this update form.
Note: Your email will serve as your individual voter ID for this process. If you normally share an email address with another Regent degree holder, please be sure that Regent has separate emails for both of you, so that you can both participate in the election.
If you do NOT want to participate in the election:
Opt out of election-related emails using this opt-out form. (If you would like to ensure that your contact information is not shared with ElectionBuddy, be sure to submit the opt-out form before Monday, April 3.) This will not affect your other email subscriptions from Regent College.