Announcing Regent's New Assistant Professor in the History of Christianity: Dr. Prabo Mihindukulasuriya
May 18, 2023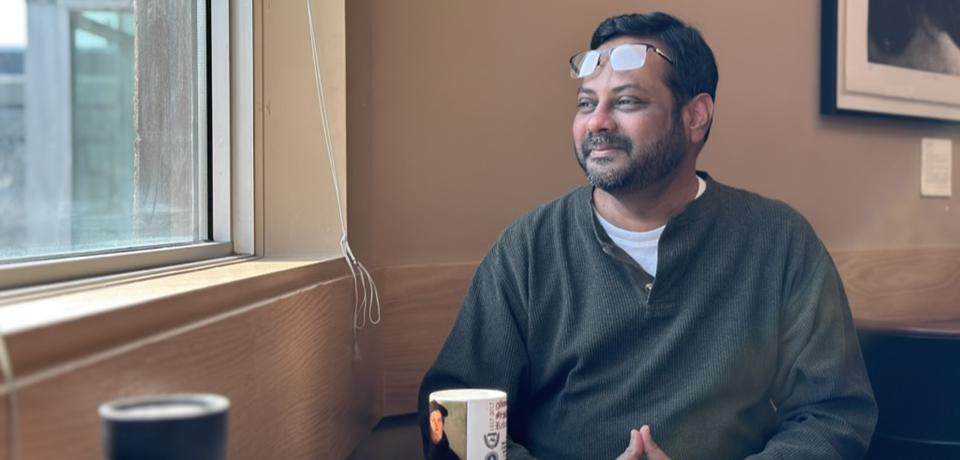 "Prabo has been a gift to the Regent community during his time with us as a postdoctoral fellow, and I'm very pleased that he'll be continuing in a permanent role."
Regent College is delighted to announce the appointment of Dr. Prabo Mihindukulasuriya as Assistant Professor in the History of Christianity, effective July 29, 2023. Prabo is currently wrapping up a one-year appointment as Regent's Postdoctoral Fellow in the History of Christianity, and the news that he'll be staying on in a permanent position has been greeted with great enthusiasm throughout the Regent community.
Prabo has a wide-ranging background in theology and history. A Regent alumnus, he earned an MATS with a Marketplace Theology concentration in 2000, followed by a PhD in History from the University of Colombo in 2020. Before returning to Regent he spent seventeen years serving in a variety of faculty and staff roles at Colombo Theological Seminary in Sri Lanka, where he taught in the areas of history, theology, Bible, intercultural studies, and ethics.
Prabo's primary research focus is the history of Christianity in South Asia, particularly his home country of Sri Lanka. His publication history includes a 2013 monograph, two edited volumes, and numerous articles in academic journals and reference works. His dissertation will be published under the title Unmasking the Empire: British Christian Humanitarians and the Ceylonese Campaign for Justice Following the 1915 Pogrom (Social Scientists Association, forthcoming).
Since his return to Regent last year, Prabo has earned a College-wide reputation as a deep and integrative thinker, an engaging and inspiring teacher, and a warmly supportive colleague. Academic Dean Paul Spilsbury warmly welcomed Prabo's new appointment.
"Prabo has been a gift to the Regent community during his time with us as a postdoctoral fellow, and I'm very pleased that he'll be continuing in a permanent role. Prabo has an impressive background in both teaching and research, and his skills in both areas have been on full display over the past year. He's a wonderful addition to Regent's full-time faculty, and we're looking forward to his ongoing contributions to the life of our community."
Before beginning his postdoctoral position, Prabo described his pedagogical goals in the following way. "I hope to impart two historical sensibilities of equal importance. One is a critical appreciation of the Western Christian tradition which has significantly shaped the North American social imaginary. The other is an embrace of the global church and its theological traditions that comes from discovering Christianity as a multi-centred movement from the beginning."
Prabo's students have expressed deep appreciation for Prabo's presence and pedagogy.
Current MACS student Claudia Ho said, "I have had several meaningful experiences learning from and with Dr. Mihindukulasuriya this past semester in History II. He lectured from the front of the class as a storyteller, sat among us in tutorial discussions as a fellow learner, lamented and longed with us over the hard parts of our Christian history, and prayed with us as a fellow brother and disciple of Jesus. I'm deeply grateful for his presence at the College and for his appointment as Assistant Professor in the History of Christianity."
Responding to the announcement of his new position, Prabo said, "I share the conviction that the Lord is leading Regent into a new season of ministry to his church and his world. It calls for renewed gratitude, humility, and confidence in Christ our Holy Wisdom. I pray for every good gift that will enable me to participate in bringing the discipline of history into the worship and witness of our learning community."
---
Prabo will be one of three professors joining Regent's full-time faculty in Fall 2023, along with Dr. Brittany Melton (Associate Professor in Old Testament) and Dr. Jonathan Anderson (Eugene and Jan Peterson Associate Professor in Theology and the Arts). Click here to learn more about all three incoming professors, and please join us in extending a warm welcome to each of them in the coming months.