Announcing the Next Peterson Chair in Theology and the Arts: Dr. Jonathan Anderson
May 18, 2023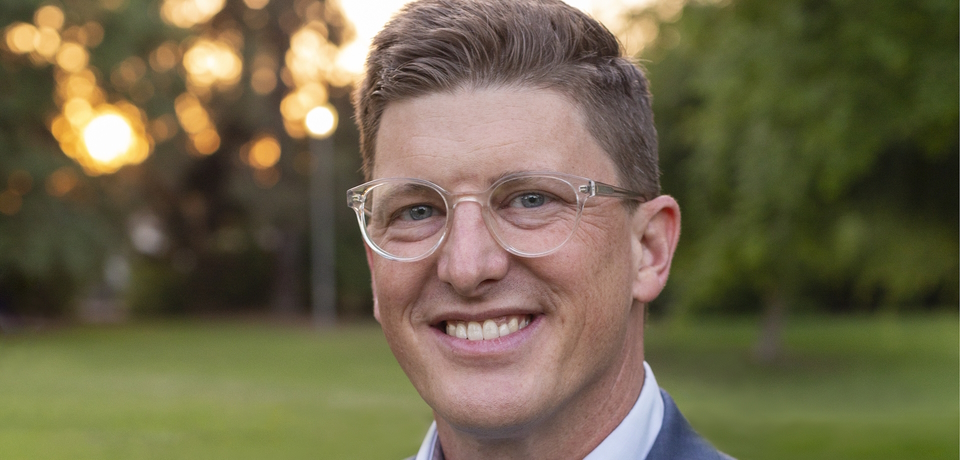 "Regent students stand to benefit tremendously from Dr. Anderson's multifaceted background as a theologian, art historian, and working artist."
Regent College is delighted to announce the appointment of Dr. Jonathan Anderson as the Eugene and Jan Peterson Associate Professor in Theology and the Arts, effective August 1, 2023. We look forward to welcoming Jonathan to Regent's full-time faculty beginning this Fall term.
Jonathan studied visual art with a focus on drawing and painting at the undergraduate and graduate levels, earning a Bachelor of Science from Biola University and a Master of Fine Arts from California State University Long Beach. After completing his MFA, Jonathan spent 15 years as an Associate Professor of Art at Biola University, teaching a wide range of courses in visual arts, art history and theory, and arts and theology.
In 2021, Jonathan graduated from King's College London with an MPhil and PhD in Theology and Religious Studies. His dissertation is titled "The (In)visibility of Theology in Contemporary Art." He is currently serving as Postdoctoral Associate of Theology and the Visual Arts at Duke Divinity School in North Carolina, USA.
In addition to his academic achievements, Jonathan is an active studio artist whose paintings have appeared in numerous exhibitions across North America. Many of Jonathan's artworks can be viewed on his website, jonathan-anderson.com. He has also curated several exhibitions, including A Sacred Discontent: A Traveler's Guide to the Apocalyptic and Systematics: Theologies of Complexity.
Academic Dean Paul Spilsbury welcomed Jonathan's appointment. "Dr. Anderson is a remarkably well-rounded scholar-practitioner with an ability to engage deeply with students while also connecting with the wider arts community. Regent students stand to benefit tremendously from his multifaceted background as a theologian, art historian, and working artist. Jonathan has a unique combination of interests, expertise, and experience, and he brings a depth and profundity of theological thinking that will enrich the whole community at Regent."
Paul drew special attention to the fit between Jonathan's background and the unique role of leading Regent's arts and theology program.
"We have been looking for Regent's next Peterson Chair in Theology and the Arts since 2019. In the process, we have met many exceptional scholars, and we are delighted to have someone whose qualifications so closely matched the contours of the role itself. In addition to the normal academic tasks of teaching, research, and supervision, the Peterson Chair is responsible for the Dal Schindell Gallery and Regent's Arts Advisory Committee. As a visual artist with decades of exhibition and curatorial experience, Jonathan is well-prepared for these aspects of his new position, and for mentoring student artists as they journey through their Integrated Projects in Arts and Theology [IPIATs]."
Jonathan's academic work focuses on modern and contemporary art and its relationship to theology, which he argues is deeper and more complex than many critical and historical discussions assume. He has authored numerous journal articles, book chapters, and reviews, and co-authored the book Modern Art and the Life of a Culture: The Religious Impulses of Modernism (with William A. Dyrness; IVP Academic, 2016).
Jonathan is excited to join the Regent community. "I've long been an admirer of Regent from afar. About 10 years ago, I started listening to audio courses from Regent while working in my studio. I got so absorbed, I probably listened to 15 courses all the way through. Regent has a rich history of outstanding scholarship and teaching.
"The interrelations of theology and the arts have very deep histories, but the contemporary academic field is relatively young and currently burgeoning—it's such an exciting time to be doing this work. My hope is to expand on the good work already being done at Regent and make it a real hub for this field. I see the field of theology and the arts as having so much to offer to, and learn from, the larger projects of theology and biblical studies. So I'm eager to pick up this work in constructive dialogue with Regent's wonderful faculty and students across a range of disciplines. Regent has a reputation for having such an excellent student community—I love teaching and am thrilled to start doing so at Regent!"
Jonathan will be moving to Vancouver this summer with his wife Natalie and their son Isaac, who is currently four months old and "absolutely adorable." (According to Jonathan: "I really hope the Regent community is going to be able to handle this level of adorableness.") We look forward to welcoming all three into the Regent community.
---
Jonathan will be one of three professors joining Regent's full-time faculty in Fall 2023, along with Dr. Prabo Mihindukulasuriya (Assistant Professor in the History of Christianity) and Dr. Brittany Melton (Associate Professor in Old Testament). Click here to learn more about all three incoming professors, and please join us in extending a warm welcome to each of them in the coming months.