Rita Houston Dies Peacefully at the Age of 90
October 08, 2014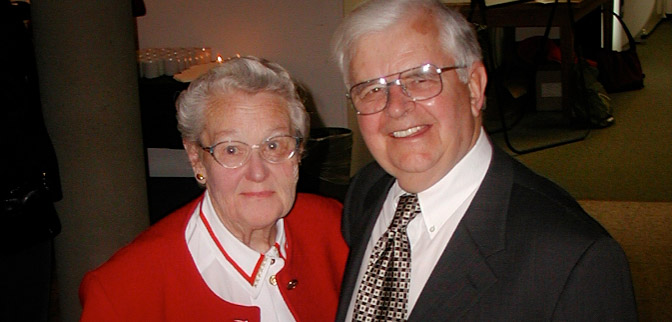 "She will be remembered as a woman who loved Scripture, who cared deeply about others, who had a wonderful sense of humour, and who was a great encourager to many." (Rod Wilson, Regent College President)
Rita Houston, wife of our much beloved founding Principal Jim Houston, died peacefully this morning in the presence of family.
Rita Houston is instrumental to the story of Regent College. In 1970, she and Jim Houston immigrated to Canada from the UK to found Regent. While her husband focused on the academic and administrative demands involved in setting up a graduate school of theology, Rita became best known for the hospitality that she extended to many generations of Regent students, alumni, faculty members, visiting professors, and speakers. She opened her home to friends and strangers alike for Sunday lunches, mid-week meals, and overnight stays, and taught women's Bible studies for over thirty years. Not one to stand on ceremony, she was known to many simply as "Rita." In the words of her children, Rita Houston loved her Lord "and from this foundation of simple faith has grown a remarkable capacity to welcome those who need a place. From the many times she has been surprised by grace's welcome of her, has sprung a relentless desire to offer welcome to others, around a bustling table, around a simple meal, around the treasured Word, from the acts of service."
In 2011, Regent College honoured Mrs. Houston for her many years of faithful ministry to the Regent community by naming its new kitchen the Rita Houston Kitchen. The name honours Rita's commitment to home and hospitality, and is an invitation to all who prepare or receive food from the kitchen to carry Rita's dedication and example as a servant of God into their own homes, churches, and the world.
Mrs. Houston was affected by memory loss in recent years, while Dr. Houston acted as her faithful caregiver. At a Regent conference a few years ago, he shared poignantly about how they were experiencing some of the best times of their marriage, freed from the demands of performance and able to share deeply and in the moment.
"While the community of Regent College mourns the loss of Rita Houston," states Regent College President Rod Wilson, "we are glad that she is no longer in pain and has been freed from the physical and emotional challenges of recent years. She will be remembered as a woman who loved Scripture, who cared deeply about others, who had a wonderful sense of humour, and who was a great encourager to many. The Rita Houston Kitchen will be a lasting memory of Rita's care for, and appreciation of, the Regent community and it will be a symbol for future generations of her ministry of hospitality. We grieve her loss but celebrate her life while we pray for Jim and the extended family during this sacred time."
The memorial service for Rita Houston will take place at 3pm on Sunday October 19 at First Baptist Church.