Regent College Summer Programs Go Abroad
August 21, 2014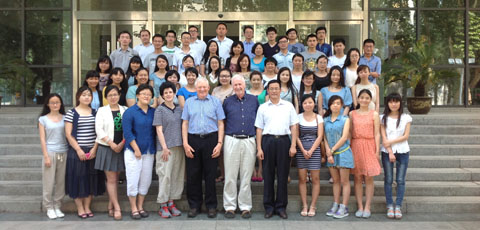 Regent College is well known for its vibrant Summer Programs that bring in people from around the world who gather in Vancouver from May to July to take one- or two-week courses from Regent faculty and visiting scholars.
What is less known is that Regent College also takes its summer teaching abroad. Since 2006, the Chinese Studies Program (CSP) headed by Edwin Hui has been bringing former and current faculty members to teach two-week summer programs at leading university campuses throughout China. This past July, Carl Armerding and Paul Barnett taught the Old and New Testaments respectively at Shandong University in Jinan, where over sixty people attended (see photo above). Carl and Paul also taught the same courses at Fudan University in Shanghai, joined by Regent professors Ross Hastings speaking on Trinitarian theology and Iwan Russell-Jones on Arts & Christian Imagination. Over 110 students attended in Fudan, including 25 seminary students as well as pastors from local churches, priests and nuns from the Catholic church, and faculty members from 6 local universities.
In addition to China, Regent College Summer Programs has inspired a new venture in Scotland that happened this past July 24-26. Independent of the College but spearheaded by Iain Provan and a number of Regent College alumni, the Abbey Summer School aims to provide "Regent-style" theological education in Scotland once a year in a set-up described as "somewhere between a conference and a festival (with a little bit of think-tank thrown in)." Iain Provan was the main speaker on the theme of Sabbath rest, while other speakers included Julie Canlis and Sharon Jebb Smith. All three will be teaching courses at Regent College next summer. The talks were held in Edinburgh with a trip to the Abbey on Inchcolm Island also on the schedule. About 35 people attended the inaugural summer school, and plans are already in the works for the next one in 2015.