Jeffrey P. Greenman, President
BA (Albion College), MDiv (Regent College), MA (University of Oxford), PhD (University of Virginia)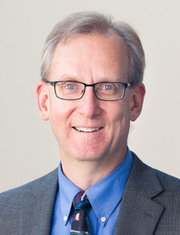 Jeffrey P. Greenman is President and Professor of Theology and Ethics at Regent College. Prior to assuming his present role, he served as Academic Dean and Executive Vice President at Regent. Dr. Greenman is an experienced leader in evangelical theological education. Between 2005–2013, he served as Associate Dean of Biblical & Theological Studies and Professor of Christian Ethics at Wheaton College in Wheaton, Illinois. Previously, he worked for nine years at Tyndale Seminary in Toronto, where he held the R.J. Bernardo Family Chair of Leadership (2003–2005), served as Vice President & Academic Dean (1998–2003), and directed a Master of Theological Studies program (1996–1998). Before taking up these leadership roles in theological education, he worked in the US government in the areas of education and juvenile justice, as well as working in national politics and in educational consulting.
— View Jeff Greenman's full faculty profile
— Read the media release announcing Jeff's appointment as President
— Read a profile of Jeff in the Fall 2013 edition of The Regent World
— Listen to Jeff's first chapel message as Regent's new President

About the Presidential Search
Jeff Greenman, Regent College's fifth president, began his new role on February 1, 2015.
The Board of Governors began the presidential search with one question: Whom has God called and equipped to lead Regent College into the future? It has become abundantly clear, first to the presidential search committee and then to the Board, that Jeff Greenman is that person.
Jeff is a Regent alumnus from 1988 whose life has been blessed by close relationships with early Regent faculty and other Regent alumni.
His life is marked by extensive international engagement and a passion for teaching and listening to the global church.
His academic work is focused on ethics, because he so deeply values the formation of wisdom and the integration of faith with real life.
His professional life is recognized by colleagues as demonstrating exceptional leadership, strategic focus, and administrative skill.
Please join us in delighting in these signs of God's provision for Regent, and in praying for a future that continues a great tradition of equipping the saints for service through transformative education.
Read the Regent College President Job Description
Read the official media release
Q&A with Jeff
When will Jeff officially take on the role of president?
It is relatively rare for a president to be chosen from within an organization, but in this case, it is proving to be a great gift.
Jeff officially took on the role of president on February 1, 2015. Given the challenges and opportunities ahead for Regent, the Board, Jeff, and Rod all agreed that an immediate transition would serve the College best.
How does Rod feel about Jeff, and about the immediate transition?
Rod is very pleased that Jeff Greenman has been appointed as his successor. Having worked with Jeff over the past 18 months, he is convinced that Jeff's leadership of Regent College will be built on
a strong commitment to prayer,
a transparent approach to relationships,
an understanding of the massive changes in the church and culture,
a respect for students that puts their experience at the centre of Regent's mission, and
a willingness to respect Regent's ethos and tradition while working toward greater flexibility, affordability, and accessibility.
A few years ago, when Rod told the Board Chair that he would not be taking a fourth five-year term, he had no idea that his successor would come from within the organization. Given that this is the situation, he thinks it best for the community and for the transition to move into the role of outgoing President between now and August 31, 2015, with Jeff assuming the full responsibilities of President immediately.
This seven-month period will allow him to continue what he has been doing for the past year—fundraising in conjunction with the Donor Relations department, profiling Regent through speaking, teaching, and meeting with prospective students—and it will provide ample opportunity for Jeff and him to work together to pass the torch well.
"With enthusiasm I will do everything I can as outgoing President to maximize Jeff's success during these months of transition. Bev and I deeply love Regent College, and Jeff will be an outstanding president to lead the community forward."
What kind of mandate has the Board given to Jeff?
With a new presidency come renewed priorities, and the Board of Governors has tasked Jeff with three things:
1. To refocus the organization.
Refocus does not necessarily mean to change. Sometimes, it means to be intentional about locking in those things that you've done well before. Regent has done a lot of things well over the years, and the Board wants to ensure the College is focused on those things God has called us to do.
2. To reconfigure the organization.
The Board wants to ensure that College programs are serving students well, and that staff and faculty are tapping in to their best gifts, their deep passions, and their God-given capabilities to serve the people of God.
3. To refinance the organization.
The Board continues to be concerned that the College exercise strong stewardship and strong fiscal controls to ensure that our revenues meet or exceed our expenses.
What is Jeff's family life like?
Jeff's wife Janet is a pediatrician and they have two children, Emily (22) and Andrew (20).
Jeff and Janet met while they were students at Regent. Janet had worked in family practice and was taking time off to deepen her personal theological foundations before starting her specialty training in pediatrics. Janet's career has been serving children and families through pediatric care, and that continues, but she also serves as co-director of the residency training program in pediatrics at UBC.
For her, the return to Vancouver two years ago meant a return full circle. She now leads the program that trained her, just as Jeff now leads the College that trained him.
Where did Jeff do his own education?
Albion College, 1981, BA, Philosophy
University of Oxford, 1986, MA, Philosophy, Politics & Economics
Regent College, 1988, MDiv
University of Virginia, 1998, PhD, Religious Ethics

Where has Jeff worked?
Wheaton College 2005–2013
Associate Dean of Biblical and Theological Studies & Professor of Christian Ethics
Tyndale Seminary 1996–2003
RJ Bernardo Family Chair of Leadership & Director of Tyndale Centre for Leadership Development
Vice President, Academic Dean & Professor of Christian Ethics
Director, MTS Modular Program
Director, DMin Program
African Enterprise (Canada) 1988–1991
What is Jeff's greatest strength?
Jeff says that his greatest strength that will be helpful in his role as President, is his ability to do creative problem solving.
Every president has to look at very complicated situations and find a way forward through complexity and difficulty. Jeff feels he has a God-given knack for that, which he has enhanced with some practical skills to the point that he is an excellent creative problem solver.
He tells the following story:
"When I arrived here in July 2013, I was at a dinner party and Bruce Waltke was there and he asked me the question, "So Jeff, what's your speciality?"
Bruce meant what academic speciality. But what I answered was "Bruce, my speciality is problem solving." And he said, "Oh you must be an administrator." And I said, "How did you know?"
So problem solving by working into creative solutions, by working with people, I find really stimulating, really exciting, and really important for institutions like ours."
What theme has God been weaving into Jeff's life?
The biggest theological theme in Jeff's life is to put God first. Let God be God.
"The kind of writing and teaching that I've done has been about the central things of faith. It's been about the Lord's Prayer, the 10 Commandments, the Creed. It's been about the great hymns that articulate the great themes of the faith.
"So for me, I want to get at the core of what we're about. And what we're about is the love and honouring of God the Father, Son, and Holy Spirit. So God First. God at the centre of our lives, God at the centre of our education. It's that robust, confident, God-centredness—that's the big theme for me."
How can I pray for Jeff?
Jeff's first request is for prayer for wisdom.
"The world we live in is very complex; it's changing rapidly. The church has many needs; it's trying to figure out its way forward in our world. So a new president coming in with all these responsibilities needs wisdom. I need wisdom that comes from above. I need wisdom that is found in prayer, that comes through discernment with the community around us.
So more than anything else, I would covet people's prayers so that I would make wise decisions."
Q&A with Presidential Search Committee
Who was on the Search Committee and why were they chosen?
The members of the Presidential Search Committee were selected to represent the various stakeholders from the Regent community.
David Ley and Louise Darou (Board of Governors)
David and Louise are both on the Board of Governors and were Co-chairs for the Committee.
David is professor of urban social geography at UBC (giving him extensive experience in the academic world) and is a long-time friend of the College, having been introduced to Regent in 1972 by Jim Houston. Since 1975, David has spent 31 years serving off-and-on with the Regent College Senate and a total of 10 years serving on its Board of Governors.
Louise has been a long-time member of Granville Chapel in Vancouver and through that association has known many Regent students over the years. She had a long career in human resources at Royal Trust, and brings that expertise to the current Board.
Uli Chi (donors)
Uli was selected as a representative of our donor community. He is a retired business owner from Seattle, WA, who chaired the Regent College Board under both Walt Wright and Rod Wilson. He is currently also extensively involved with both Fuller Seminary in Pasadena, CA and with Seattle Pacific University.
Connally Gilliam (alumni)
Connally graduated in 1988, joined the Regent Board in 2012, and spent Fall 2014 as a full-time Regent student once again. As a Board member, she currently serves on the Student Relations committee. Connally lives in Washington, DC and works as Special Counsel to the National Director of Navigators.
Bruce Hindmarsh & Mariam Kamell (faculty)
Bruce is himself a Regent graduate and has been on faculty for 13 years as professor of spiritual theology. Mariam Kamell joined Regent in 2010 as a postdoctoral fellow, and has since become an assistant professor of New Testament.
Gerry Schoberg (staff)
Gerry did his Regent diploma, MTS, and ThM from 1983 to 1991, then returned in 1999 to become the Registrar. He has been a senior academic staff member ever since, aside from a few years' interlude in the late 2000s when he left to do his PhD studies.
Brie Tarras (students)
Brie graduated in May 2014, but continues to take Regent classes and lives in Vancouver with other Regent students. Before graduating, she served as president of the Regent College Student Association.
What was the mandate of the Search Committee?
The role of the Presidential Search Committee was to review candidates and bring recommendations to Board.
What work did the Committee do?
The Committee completed the following tasks:

researching and selecting an executive search consultant
creating the position description & advertising
ensuring the advertising "net" was spread sufficiently widely, through a variety of media, to the right audiences, for a sufficient amount of time
examining applications
determining a shortlist
interviewing
recommending their top candidate to the complete Board
Just as important as all of the above, throughout Fall 2014, the local members of the Presidential Search Committee met every week to pray about their work, asking for God's guidance toward the best possible candidate for the next stage of Regent's life.
What was the presidential job description?
Here is the Regent College President Job Description that was circulated through advertising and various leadership networks.
How were various stakeholders included in the process?
Along with the representative nature of the Search Committee itself, Regent's executive search consultant interviewed over a dozen people from across different stakeholder groups in order to gain a clear understanding of what type of person was needed for the next president of Regent College.
In addition, the faculty were asked to recommend names for the search consultant to contact, either as networkers who might know potential candidates or as candidates themselves. In the end, the consultant interviewed 60 individuals from around the world.
Which executive search firm did you use?
The Committee Chairs researched search firms and approached four firms for proposals. The Committee evaluated those proposals and selected Hutchinson Group, which resulted in an outstanding experience working with Senior Associate Larry Nelson.
How many candidates were considered?
The position was advertised very widely, through magazine ads, listservs, personal contact, and through the extensive network accessed through the executive search firm. These efforts were across North America, the UK, Australasia, and South America. The committee is satisfied that there is nothing more that could have been done to identify candidates.
Larry Nelson from Hutchinson Group interviewed 60 people to discern if they themselves were interested or if they could recommend others.
Eventually, the Committee considered a shortlist of six candidates.
Why did the Committee recommend Jeff Greenman to the Board?
There were many reasons the Search Committee recommended Jeff Greenman as the top candidate for this position:
His written responses in his application and his verbal responses in subsequent interviews revealed an incredible integrity and extraordinary love for Regent. He feels called to serve Regent "through thick and thin."
He has experience at two other theological schools, where he successfully managed very difficult financial or organizational challenges. He was often described by his peers as an outstanding leader and administrator.
His references were outstanding.
He has experience in senior leadership of theological schools in Canada and the US. He also did a degree at Oxford and is on the Canadian Board of Langham Partnership, an organization founded by John Stott to develop Majority World leaders for the church. His past experience leading the Canadian branch of African Enterprise connected him with various leaders throughout South and East Africa.
He is an outstanding networker, and he has a heart for the global church, both personally and academically.
He has fundraising experience in the political realm, in parachurch organizations, and in Christian higher education.
He has a heart for the full integration of life, work, and faith, and his academic focus on the study of ethics is rooted in his desire to unite the biblical and theological roots of our faith with what it means to live that out in the real world.
Finally, many, many times in the conversations our search consultant had with people from around the world, even though completely unsolicited on our part, people would remark that Regent already had the best possible candidate in Jeff Greenman. When we asked for recommendations of potential nominees, the name most often mentioned was Jeff Greenman.
This was a tremendous and unsolicited source of confirmation.
The Search Committee unanimously voted, and our search consultant agreed, that Jeff Greenman was the best possible fit for Regent's next president. The Board also voted unanimously for his appointment.
"I have absolutely no doubt that Jeff Greenman is the best candidate to lead Regent in the next five years," says David Ley, Committee Co-chair.