Bookstore
Life Experiences in the Gospel of John: A Weekend of Teaching
Saturday, Feb 9, 2013 at 9:00AM - 4:00 PM
This event has now ended. Please view this page to see all our upcoming events.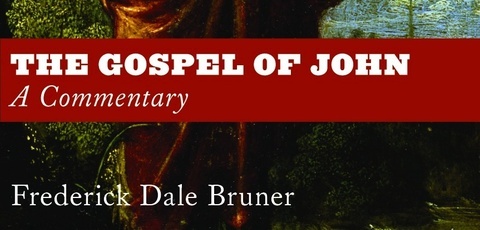 with Dale Bruner and Darrell Johnson
Friday 7:00 pm–9:00 pm
Saturday 9:00 am–4:00 pm
This weekend will feature teaching by both Dale Bruner and Darrell Johnson, as well as discussion and interaction around the major themes of the Gospel of John. These long-time friends have both been immersed in serious study, prayer, and preaching of John's Gospel for many years. The weekend will lead you into a fresh discovery of Jesus through the eyes of his beloved disciple.
"My conviction, learned from the multiple New Testament Gospel and Epistle witnesses and from faithful Church proclamation and comment through the centuries, [is] that the main reality in life and the most important fact of history is Jesus of Nazareth, the eternal Son of God, who became a real human being in and for the whole world. I believe that Jesus' most particular gifts to humanity were, at the conclusion of his incomparable teaching and healing ministry, those gifts given on a single weekend just outside Jerusalem in the middle of the first century of our era—his Death and his Resurrection. Jesus' Death and Resurrection gave, and in proclamation they continue to give, his believers the plenary forgiveness of their sins, the assurance of death's conquest, the free gift of the Holy Spirit for seeking to live in conformity with the nonviolent and truthful Jesus, free access to the reality of God the Father, and a world mission in our vocations." —Dale Bruner
speaker bios
F. Dale Bruner is the George and Lyda Wasson Professor of Religion Emeritus at Whitworth University and scholar in residence at Fuller Theological Seminary. He is the author of the two-volume Matthew: A Commentary and The Gospel of John: A Commentary.
Darrell Johnson is senior minister of First Baptist Church, Vancouver. He is the author of Discipleship on the Edge and Fifty-Seven Words that Change the World: A Journey through the Lord's Prayer.
tickets and information
For tickets ($28 each) or more information about this event, please contact the Regent Bookstore at bookstore@regent-college.edu or 604.228.1820 (toll-free in North America 1.800.334.3279).
Location
Regent College Chapel, 5800 University Blvd, UBC Campus, Vancouver