1972
Dal Schindell
Theologian of the Arts
•

1947–2019

Editor's note: Sadly, Dal Schindell passed away on August 6, 2019. The following interview appears with his permission, and with gratitude for his exceptional life, endearing character, and unparalleled wit. You can read more about Dal and his legacy in this remembrance.
On Campus 1971-1972 ∙ DipCS '72
I graduated after one year at Regent. I retired after 33 years at Regent. I am married to Kit, I have two grown daughters and six grandchildren, and I've been a Presbyterian elder for 40 years.
Most important lesson from Regent:
The Bible is bigger and more substantial than I'd known.
Why I support Regent:
We trust the people who continue to shape the College. Giving to Regent is worth it.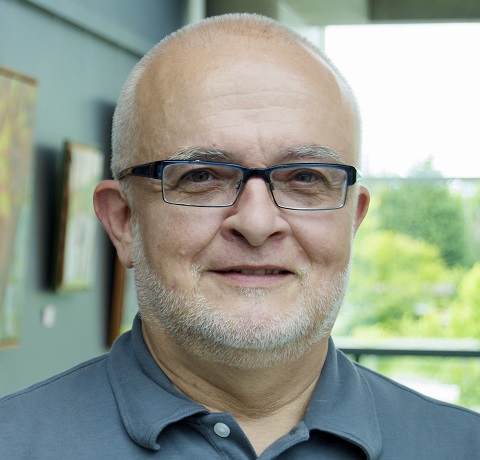 More From Dal

Regent Years

When I graduated from art school, I found that Regent had started up right in my backyard. Looking back today, I can see that my time as a Regent student did more than just prepare me for the rest of my life: it helped teach me how to live.

I returned to Regent in 1979 and stuck around for several decades. In addition to my roles as an Instructor in Christianity and Art and Director of Publications, I created the Lookout Gallery and served as its Director for 25 years. [Editor's note: On April 2, 2019, Regent's art exhibition space was officially re-named The Dal Schindell Gallery.]


As Director of Publications, I tried to bring a sense of humour to Regent's communications and marketing. Part of it was my own wacky personality. It's just the way l was. I'd like to say it was strategic but l just thought it was part of being human, and it was humans we were trying to attract. And I loved Regent College.

I enjoyed showing people like J.I. Packer and Gordon Fee as people who had interests beyond their very specific biblical/theological skill sets. I wanted to show them as vital, deep, interesting men who took life seriously—and laughed, often at themselves. There was a place for warmth, laughter, fun, and friendship at the heart of Regent. I did not want the students to place the faculty on a pedestal as if they were super-human. Truly, we were all in it together.

[To read more about Dal's wacky approach to advertising Regent, and see some samples, take a look at "The True Origins of the Un-Seminary" in the Winter 2018 edition of Regent World.]

Aspect of my life that would have surprised me as a student:

Having some money.

Best Regent memory:

The student I sat down next to one day has been my wife for more than 45 years. Be careful where you sit!

Funniest Regent memory:

Breathing pizza breath on Dr. Sam Mikolaski until he invited himself along with a group of us.

Favourite Regent class:

Biblical Studies

Favourite place to study:

The old Anglican College library.

Three words that describe Regent:

1. Thoughtful
2. Fresh
3. Creative

Only Regent people ...

... come with such a variety of interests and backgrounds.


As a donor, I'm supporting Regent's ongoing mission.
Would you join me?

Dal and Kit Schindell: The Early (Regent) Years

Dal works his public relations magic

Dal's look evolved over his years at Regent

Dal and Kit at the unveiling of The Dal Schindell Gallery (April 2, 2019)