2019
Sara Saarela
Campus Pastor & Lecturer
•

Sastamala, Finland
On Campus 2016–2019 ∙ MATS '19
I'm currently working as a campus pastor and a lecturer at Iso Kirja Bible College in Finland. I'm also a published author (I write novels) and a freelance reporter. I love New Testament exegesis and I hope to do further studies sometime in the near future.
Homework...and Worship:
I remember my first time diagramming the Greek text of Ephesians. This was part of the Advanced New Testament Exegesis course. When I had completed the task, I just burst into praise and tears. I felt God so close, and I just wanted to shout from the rooftops how amazing our God is and how beautiful his word is.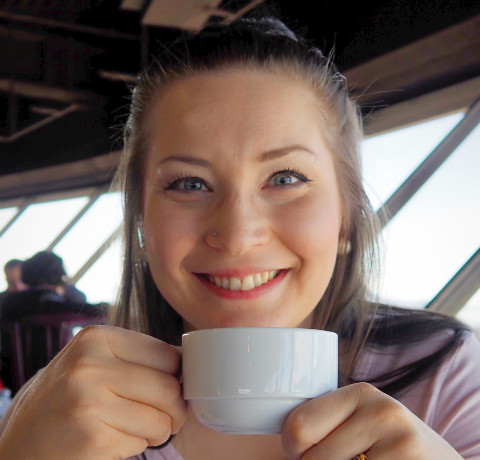 More From Sara

How I got to Regent:

I had completed my undergrad degree in theology in 2013 (in Finland), and I wanted to do my Master's abroad. Between 2013 and 2016, I studied creative writing and literature, worked in a grocery store and later in a Bible college, and tried to save money for my studies. I'm a huge fan of Gordon Fee, so I had heard of Regent. One of my Bible college professors had studied at Regent, and actually it was him who one day said, "Maybe God is calling you to go to Regent." At that time, Janne and I were trying to decide which university or college would be a good place for us. I heard that if you wish to discover how to be a Christian with all your heart and mind, Regent is the place to go. So it sounded like Regent would be the right place for us.

Most important lessons:

During my time at Regent I learned a lot about many things—for example, about the Greco-Roman world and ancient Near Eastern culture. But the most precious thing to me is not the new information I gained but the way Regent changed the way I think and see the world. Regent's integrated vision is revolutionary: you are a follower of Jesus wherever you are, at all times, whatever you do. Everything we do matters, not just what pastors or theologians do. Being a friend matters; listening to people who are hurt matters; doing business according to the principles of God's kingdom matters. Also, at Regent, one doesn't have to be less "Christian" or spiritual while engaged in serious academic work. My experience was that finally I learned how to do academic work as a Christian: I study and do research for God and for others, and precisely for that reason I need to do it carefully and faithfully.

How Regent made a difference:

I think I had lost something over the years. As a Pentecostal, I could say that I was no longer "a scholar/student/believer on fire" (referring to a title coined by Gordon Fee, "a scholar on fire"), and I didn't know how to find my way back. I think I had some kind of crisis. After learning Greek and how to use exegetical tools, I could enter into journeys where I needed to wrestle with the biblical text on my own. And then something happened. Those exegetical journeys—the process—changed me. I don't quite know how to put it into words, but as I once said, "if it were possible to come to faith again, that's what would have happened in the advanced exegesis class that I took in my second year."

Fond memories of faculty:

Many precious memories are related to different professors and lecturers. For example, I was Carolyn Hindmarsh's TA for first-year Greek, and Carolyn became a mentor and a very special person in my life—I don't know what title would fully describe her role in my life. I will never forget our morning tea sessions. Professors George Guthrie and Paul Spilsbury (the supervisor of my thesis) played significant roles in making me a more confident and thoughtful New Testament student. They taught me not to be afraid of asking questions.

There have been many occasions during my life when I have felt I'm not intelligent or appreciated because I'm a woman, and I don't think I have ever felt so appreciated as I felt at Regent. The reason is that professors treated me as a student like any other and saw me as Sara—they saw me, my gifts, and my personality. They were tough at times and gentle when that was needed—never too tough and never too gentle.

Studying together:

My husband, Janne, studied with me, and it was so important to share that period of time as a married couple. We experienced all kinds of phases and feelings along the way—we were excited, happy, nervous, and sometimes terrified when we faced new challenges—but always together, side by side. Our time at Regent changed us, and I feel privileged that we both have a profound understanding of what it means. And since we are both theology nerds, we can share that too.

Why I support Regent today:

As a Regent student, I received financial aid. I come from a country where students get support from the government, and on a very few occasions might receive support from private donors. However, we don't have the kind of system Regent has. In my country, financial aid is quite impersonal—it's taken from tax money—and we Finns tend to think it is a right that I ought to have.

I have one very special memory related to financial aid. I remember a day during my second year at Regent when my husband and I were planning our summer courses and checked our financial situation. I was planning to start writing my thesis, and I wanted to take quite a few courses on top of that during the coming summer. Money was tight. We prayed, and for some reason I was not nervous, even though I could have been given the circumstances. The next day I found a letter in my mailbox at Regent: I had received an unexpected scholarship I knew nothing about. A few weeks later, we found out that Janne had been given some extra money as well. I had lunch with the donors and met them personally. Suddenly, receiving financial aid was personal, not impersonal. There are loving, thoughtful, and committed Christians involved in this. It was such a touching moment to meet people who had decided to devote their lives to helping Christian students.

I have to admit this: I come from a somewhat poor family, and I used to think that rich people are selfish (because money can make people selfish), and so in a way I thought that money is evil. But sitting there, chatting with people who had given me money when I was in need, changed me and my perspective for good. I cried as I tried to explain to the donors how much their gift meant, and I was so grateful that I got to experience that. It was powerful, and I will never forget it.

Because of that experience, I want to help others. I want to be part of the huge group of people who make these kinds of experiences possible. And I want other people to be able to experience the blessings Regent has to offer.

Regent in three words:

1. Transformation
2. Life (It's all about life!)
3. Community

Funniest Regent memory:

A wrestling show at the Fall retreat in 2018. My husband, Janne—a big and strong guy—wrestled with a few guys and then with Dr. Iain Provan. Richard Thompson was the commentator. Finally I came on stage and did a hip throw on Janne, even though he's a lot bigger than me. Well, with the right technique and participation from the other party, it's very possible. What a great show it was!

Favourite place to study:

The library, at the table next to the Accordance computers. Of course, one needs a travel mug with some good cappuccino from The Well to make the moment perfect.

Favourite thing about Vancouver:

Wonderful, beautiful, amazing nature.

Fun facts:

1. My favourite hobby, besides reading, is powerlifting.
2. I usually put up our Christmas tree in October.
3. I don't dance (I'm a Finn, hey…).


As a donor, I'm supporting Regent's ongoing mission.
Would you join me?

Sara and Janne Saarela in the great outdoors