2012
Deborah Fung
Art Therapist
•

New York, New York, USA
On Campus 2009–2013 ∙ DipCS '12, MDiv '13
I'm a creative arts psychotherapist, artist, and theologian. Despite intervening years in Maryland and Vancouver, I now live on the same New York City block I grew up on. You can find me online here.
How I got to Regent:
Before I came to Regent I worked as a full-time youth minister. The longer I worked in ministry, the more questions I had. I felt I needed to be better equipped in biblical study and theology, and I went to Regent to find answers. I also wanted to better integrate my art life with my ministry life.
Aspect of my life that would have surprised me as a student:
Though I'm very involved in a local church, I'm not employed in one.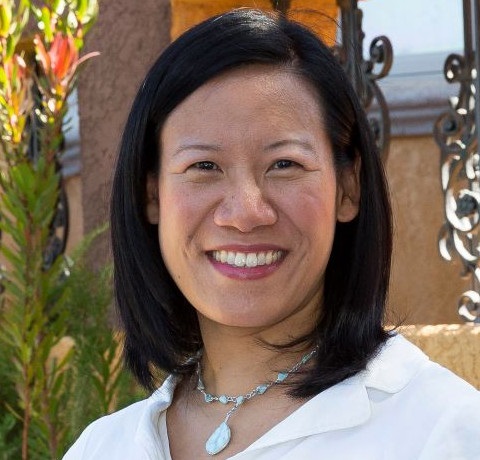 More From Deborah

Most important lessons:

In terms of skills, I learned to do exegesis and read Hebrew, which has given me a great love for the Old Testament and revolutionized my sermon writing. But more than just acquiring skills, the process of learning shaped me. I came to Regent seeking answers to specific questions. I did not find the kind of satisfying pat answers that I had hoped for, but I was transformed and shaped by the searching, the readings, the study, the lectures, the thinking, and the collaborations (or failures at collaboration) with classmates and peers. I also learned a great deal informally through the process of serving on the RCSA to resolve community issues and living in a community house.

Then, when I was preparing to leave Regent, I went on a silent personal retreat at Rivendell, to fast, pray and figure out what I would do next. I remember asking God, "What should I do next?" and feeling quite desperate to know, then waiting and waiting. Throughout my times of praying, reading scripture, and listening I kept hearing God say to me, "I love you." I kept replying, "But what should I do?" Finally, I realized that this was what God wanted me to know most after my three years of theological study and journeying to know Him more. Recalling God's love and being secure in God's love has led me through my most trying times post-Regent of uncertainty, family crises and bereavements, job searches, and building community.

How Regent made a difference:

My faith was strengthened by my experience at Regent. I learned to pray more deeply, and I had such a certainty of God's love in the midst of multiple family crises and tragedies. During those times of crises and tragedy, I really felt that my time at Regent had prepared me to continue the life and work of faith in the midst of pain.

Life after Regent:

When I first returned to NYC after Regent, I apprenticed with Mako Fujimura to study Nihonga painting, which I had been introduced to in a Regent summer class. I got involved with the Center for Faith and Work as they inaugurated an intensive course for artists, and later co-led two subsequent iterations of the intensive. I also worked part-time at an NYC mega-church and had another part-time job as an art therapist at a children's museum. During this season, I passed my board exam, gained my national credentials, and became licensed in New York state as a psychotherapist.

After a couple years of holding multiple part-time jobs, I participated in a discernment process led by a spiritual director and shared with four other prayer partners. It was a challenging time of questioning, but I eventually made the decision to leave my position at the mega-church. Soon after, I was hired as one of the first gentile therapists for the inaugural early childhood mental health program run by a large Orthodox Jewish Agency. I now work there full-time as a therapist in the clinic and as a consultant in Headstart and Pre-K schools. I also serve on the ethics committee of the American Art Therapy Association, a role that has given me the chance to pull together many of the things I learned and thought about during my time at Regent.

When it comes to personal life, I'd like to start my own family, but I'm still single. Since I've returned to NYC after Regent, I've met many single women my age, both inside and outside the church, who are trying to figure out lives that are different from what they hoped for.

Several years ago, I became convinced that I should be more involved in mission to the neighbourhood where I live. I returned to my home church and got involved shaping and leading worship, preaching, and teaching as needed, as well as working with church staff to develop arts exhibitions and concerts at the church. And while I no longer apprentice with Fujimura, I've maintained a studio practice in painting with the Nihonga materials and techniques.

Why I support Regent today:

I support Regent because I benefited so much from the studying there and I would like for others to have the same opportunity. It was an incredibly formative and healing time, and I continue to feel privileged to have had the time set apart there to study and grow in my journey of faith.

Only Regent people…

…can find a spiritual moment in something as mundane as washing vegetables.

Regent in three words:

1. Nurturing
2. Earnest
3. Joyful

Best Regent memory:

Making soup for the school with my community group.

Funniest Regent memory:

Experiencing Ceilidh dancing and the talent show at my first Regent retreat.

Memorable chapel moment:

I remember Sarah Williams reciting Julian of Norwich in a dramatized chapel of journeying through church history. That whole chapel was a creative and memorable experience with the different history T.A.'s reading and re-enacting Christians from history.

Favorite Regent class:

I loved too many to pick just one!

Favorite things about Vancouver:

Ready access to the beach, the forest preserve, and the mountains.

Fun facts:

1. I love to scuba dive.
2. I am an egg tart connoisseur.
3. My hipster neighbor called me an "OG." I wasn't sure whether to be offended. I later learned that "OG" stands for "original gangsta"—because I live on the same block that I lived on during my childhood, before the gentrification began.


As a donor, I'm supporting Regent's ongoing mission.
Would you join me?

Deborah in her hometown of New York, and at a concert

On UBC campus with fellow Regent students

BC's great outdoors