1995
David 'Monty' Montgomery
Student Ministry Director
•

Belfast, Northern Ireland
On Campus 1992–1995 ∙ DIPCS '94, MDiv '95
I currently serve on the European leadership team of the International Fellowship of Evangelical Students (IFES). I've also written a book on church music, and I continue to preach and speak wherever I am asked. I've been married to Gwen for 28 years—you might know her as the face of Regent's front desk in 1994 and 1995. You can find me online here.
Life after Regent:
Regent prepared me and Gwen for a lifetime of ministry in both church and parachurch contexts. After spending seventeen years as a pastor, I transitioned back into student ministry to lead the Irish IFES movement. I then joined the European Regional team, with responsibility for several countries and our pioneering ministry. Gwen and I are now officially working together as a team, equipping and mentoring senior leaders of student ministry. We've experienced the usual ups and downs, encouragements and discouragements of any ministry couple, but by God's grace have been sustained as a couple and as his children, gradually learned what ministering by grace really means.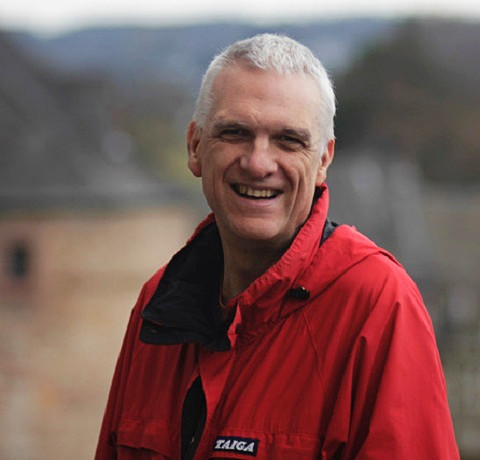 More From David

How I got to Regent:

I was a youth pastor and wanted a rounded theological and biblical education rather than "professionalized" denominational training. I was attracted by Regent's faculty and the emphasis on theological training for everyone.

Community life:

The international dimension of the Regent community is one of the most enriching things about student life. Gwen used to host Spouses of Students gatherings, and on one occasion we had women from six different continents in our small basement apartment! Since graduating, Gwen and I have focused our giving on helping international students and their families attend Regent.

The TA experience:

I have many amusing memories from my time at Regent, but my experience as Bruce Waltke's teaching assistant was a rare privilege. I was surprised by my own interest in Hebrew, and it was a joy to travel that path. On the other hand, a member of Regent's administration once commented, "Why have they given the least organised student to the least organised professor as his TA?"

Most important Regent lesson:

My studies at Regent gave me an understanding of vocation and ministry. In particular, I learned that ministry is about equipping the whole people of God, not getting the "many" to assist the "few."

Best Regent memory:

Returning to the College after several years to find a hymn I'd cobbled together for Taste of the World being sung at graduation.

Funniest Regent memory:

Playing a prank on the College administration by going to enroll in the Christian biography class called "Agony and Ecstasy" but asking to just do the Ecstasy part for one credit. Because, I explained, "I've had a bad year and can't do any more agony."

Favourite Regent class:

"Text and Canon" with Sven Soderlund.

Favourite place to study:

Beside the periodicals in the old library. I was one of only three students to have a laptop in 1992, and that's where the power outlets were!

Favourite thing about Vancouver:

White Spot milkshakes

Aspect of your life that would have surprised you as a student:

That I would still feel as energetic and motivated in ministry almost thirty years later.

Fun facts:

1. I'm currently writing a book about all my mishaps in ministry.
2. I've been a Manchester City fan for forty years of Agony…now I'm finally enjoying the Ecstasy!
3. I was the first person ever to lead a congregation in the worship song "In Christ Alone" (written by Keith Getty and Stuart Townend).

Three words that describe Regent:

1. Community
2. Vocation
3. Integrated

Only Regent people…

…understand Atrium Theology.


As a donor, I'm supporting Regent's ongoing mission.
Would you join me?

Gwen and Monty Montgomery

Making a fashion statement

Monty, Gwen, and "Beave"