1994
Dennis Campbell
Pastor
•

Scarborough, Ontario, Canada
On Campus 1991–1994 ∙ MDiv '94
I am 60 years old and currently serve as the Executive Pastor at Morningstar Christian Fellowship in the Toronto area. My wife Jackie and I have been married for 35 years, and we have two grown children, Shari and Kristian.
Most important Regent lesson:
How to think biblically as a disciple of Jesus Christ and live as a human being in our world.
How Regent made a difference:
Regent exposed me to some of the best theological minds (men and women) who love God and the church. It also prepared me for the work God was calling me to, in the church I have served for over 20 years.
Why I support Regent today
I believe in the mission of the College and the need for it to continue long after I have passed from this earth. I can't imagine that there are too many alumni who haven't benefited in all kinds of ways from their Regent experience. That alone is worth giving back to, so others can benefit as well.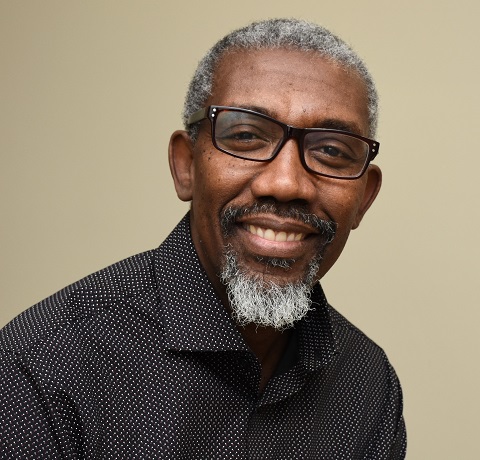 More From Dennis

How I got to Regent

I was employed as a graphic designer and sensed God calling me to vocational ministry after listening to an evangelist preach at my church. To say this was life-changing is an understatement. Never did I imagine that God would choose that path for me.

Choosing to come to Regent was not part of my original plan—Dallas Seminary was. However, through a series of events that was most definitely the work of the Holy Spirit, we ended up coming to Vancouver instead. I learned about a Regent info night featuring Dr. Packer from someone in my church, who said my name came to mind when he asked God who to invite. Unknown to him, at that time I was wrestling with the role of the laity in the church, and that was the topic Dr. Packer was to speak on. I had heard of Dr. Packer (who hadn't?) but I'd never heard of Regent before. I went to the info night and, as they say, the rest was history. We received my letter of acceptance to Regent on Christmas Day. What a gift!

Student life

During my first year as a student I was quite academically fearful. I remember one occasion when I was struggling with the idea that I could not meet the academic standards and wanted to quit. I went to Dr. Packer and shared with him that I had been praying about whether I should quit, but that God would not give me peace about the decision. Dr. Packer looked at me and said, "Dennis, when God puts his hand on a man, he does not remove it." I replied with tears in my eyes, "Yes, I know."

My two kids were born during my time at Regent—that timing was both a blessing and a challenge. Studying at Regent was great, but the demands did take a toll on my marriage, which but for the grace of God would not have survived. I learned many lessons in those years that I would go on to share with couples I've counselled as a pastor and husband.

I have wonderful memories of the day I graduated. I had been so fearful—I cried most days of my first year—that to be standing on the platform at convocation three years later was truly a God thing.

Life after Regent

Two years after graduation, I was called to be the Family Pastor at Morningstar, serving our youth and young adults. I've been at Morningstar ever since, serving in several capacities: Pastor to Parents, Couples, and Families, which involved a lot of counselling individuals and couples, then Campus Pastor at our Tapscott location, and most recently Executive Pastor. I've also been able to help train and deploy several lay leaders in our church to serve as Biblical Counsellors. I have been blessed to be part of a great church family.

I am also part of a ministry of our denomination (Fellowship of Evangelical Baptists) called LeadersFormation, which trains pastors and lay leaders globally. This has taken me to Honduras, India, Africa, and now the Caribbean, where I recently started a five-year training project on the island of Dominica.

Some of the challenges I've faced have been two lead pastor transitions in our church and figuring out how to revitalize an aging congregation of 50 people while effectively reaching an ethnically and religiously diverse community as a campus pastor. I am still working on this one, hard, hard!

Church and Family

Morningstar is a multicultural church with about 900 worshippers and a multi-staff ministry and admin team. We recently celebrated 60 years of ministry in the East Scarborough Area. The journey to Morningstar was one of God's leading, and it has truly been a blessing to my family and I—not to say there haven't been struggles along the way. Even so, I have often asked God why this has been my only vocational church experience since graduating from Regent. I am still waiting for a fuller answer.

My family all serve in various capacities at Morningstar's second campus, "Tapscott." My daughter Shari, who oversees our kids Sunday school, is currently employed as an addiction counsellor, with the eventual goal of becoming an art therapist. My son Kristian, one of our tech personnel at Tapscott, is currently finishing his studies in computer coding and eventually would like to specialize in the video game art and design industry. My wife Jackie is close to retiring from a long career with the Ontario government as a finance specialist.

Favourite Regent class

Dr. Toews's history classes. He made the characters come alive.

Favourite thing about Vancouver

Blossoms in spring.

Aspect of life that would have surprised me as a student

That I've only served in one church since graduating.

Only Regent people…

…sit under the green roof.

Fun facts:

1. I love to read.
2. I'm a fan of superhero movies, though Lord of the Rings is my runaway all-time favourite movie trilogy.
3. I stay active by walking and listening to many of my former Regent professors six days a week and going to the gym three days a week.


As a donor, I'm supporting Regent's ongoing mission.
Would you join me?

Dennis with students in Nigeria

Teaching

International Day at Morningstar