WORKSHOP
For Goodness' Sake: Christian Identity & Business Leadership
Friday, May 26, 2017 at 9:30 AM –Saturday, May 27, 2017 at 4:00 PM (Pacific Time)
This event has now ended. Please view this page to see all our upcoming events.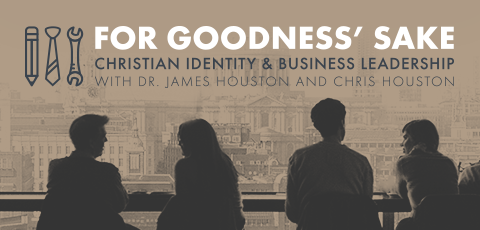 A two-day workshop with Dr. James Houston, Board of Governors' Professor of Spiritual Theology, and business consultant Chris Houston.
Christ calls us as Christians to be salt and light—to engage fully without being conformed to the world about us, including the world of our work. Sometimes, though, we can find our Christian identity constrained rather than liberated by the expectations that seem to govern our business and other enterprises. Join James and Chris Houston—father and son, scholar and management consultant—as they explore how the roots of our uniquely Christian identity and the social demands of business can equip us to participate with Christ in his reshaping of business "for goodness' sake."
The workshop runs from 9:30 am to 4:00 pm on Friday and Saturday, May 26, 27. Lunch is included in the price of registration.
Cost is $225 for regular participants, and $545 if you wish to take the workshop for 1 graduate credit. Register for either option at the link below. If you have any questions please email [email protected].
Visit the conference page for more information on the speakers and the event schedule.
The cost is $225 per person or $545 for the credit option.
Location
Regent College
Parking
Paid parking in the Regent College parking lot or UBC