Student
2022 Conway Holy Land Presentation
Wednesday, Nov 30, 2022 at 12:00PM - 1:00 PM (Pacific Time)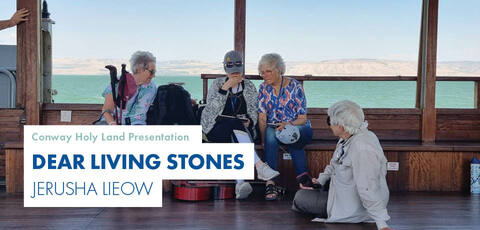 2022 TRAVEL BURSARY PRESENTATION
Each year, one Regent student travels to the Holy Land courtesy of the Conway Holy Land Travel Bursary. The purpose of the bursary, generously endowed by Dr. John Conway, is to enable that student to engage in inter-religious dialogue and explore issues of peace and justice.
"DEAR LIVING STONES" BY JERUSHA LIEOW
The grateful recipient this year is Jerusha Lieow, a third-year student in the Masters of Divinity program with special interests in cross-cultural ministries and Christianity & the Arts. She traveled to Israel-Palestine in hopes of asking better questions, and came back asking different ones than she expected.
Please join us on Nov 30, 2022 from 12 to 1 pm in Room 100 to hear Jerusha share her stories from Israel-Palestine. Her presentation is titled, "Dear Living Stones." She will close her presentation with an original song. All are welcome to attend.
ABOUT JERUSHA'S PRESENTATION
"I went expecting to learn about Muslim-Christian relations but returned with questions about Christian-Christian relations instead. The people I met there gave me hope that Christ's ecumenical Church truly is the peacemaker in this conflict-stricken place. But what if the Church was at war with herself? How does a divided Church testify to peace? I learned that we, the Global Church, has a role in adding harm or bringing healing into this messy situation. Ultimately, the Lord provided me with council and solace through the Beatitudes." — Jerusha Lieow
For a sneak peak of her travels, please visit her blog, The Dusty Sojournal.
Location
Regent College, 5800 University Boulevard, Vancouver, BC V6T 2E4
Parking
Paid parking available at Regent College and UBC