Public Lecture
Everyday Life in a World of Digital Surveillance
Monday, Jul 17, 2023 at 7:30 PM – 9:00 PM (Pacific Time)
This event has now ended. Please view this page to see all our upcoming events.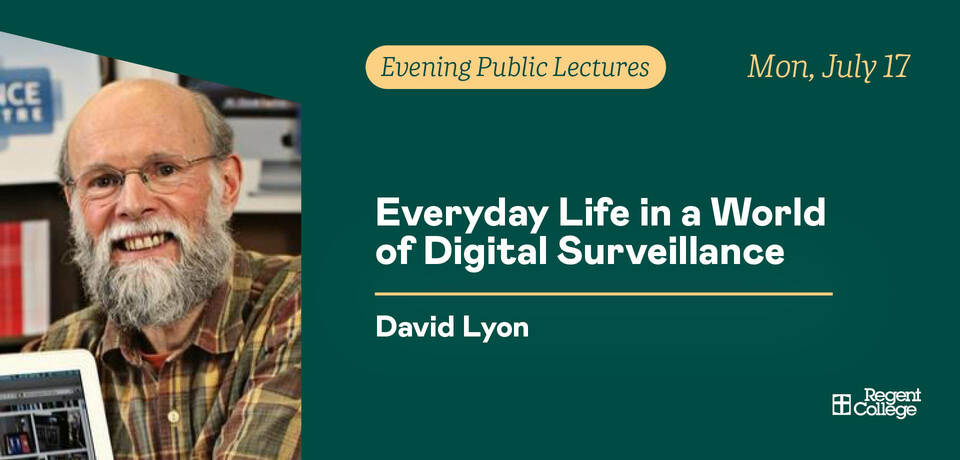 You're invited to Regent's 2023 Evening Public Lecture series! Join us in the chapel or tune in online to explore theology, culture, and much more with this year's summer faculty.
To watch this and other Evening Public Lectures online, visit rgnt.net/live.
About the Lecture
We inhabit a digital world where individuals live like open books. As we use electronic media to connect, share, shop, work, study, play, and travel, we share intimate details of our lives for all to see—and that's just what we intend to share. Other details are collected through our phones, fitness trackers, transit cards, and other devices, and this information is analyzed by companies, government departments, and other organizations. How should we live in such a world, especially as Christians? What resources can help us navigate the rapidly-evolving "digital seas"? One of the best-known treatises on today's digital domains is Shoshana Zuboff's The Age of Surveillance Capitalism. Using Zuboff's analysis as a starting point, and placing surveillance in the context of what biblical scriptures speak of as the "eye of God," surveillance expert David Lyon will explore practical possibilities for faithful life in surveillance societies.
About the Speaker
David Lyon is a sociologist, married to a potter, Sue Lyon. They have 4 children and 11 grandchildren. David directed the Surveillance Studies Centre at Queen's University, Kingston, Ontario for 20 years. Educated at the University of Bradford UK, Lyon has been studying surveillance since the mid-1980s. A pioneer in the field of Surveillance Studies, he has produced a steady stream of books, translated into 18 languages. Surveillance: A Very Short Introduction will appear from Oxford in 2024. His new project is a book on Surveillance and the Eye of God. From the 1970s to the 1990s he researched secularization and has continued to consider how far today's surveillance is affected by secularity, and can be challenged and enhanced through examining biblical texts referring to God's gaze. His work has been recognized in Canada, Switzerland, the USA, and the UK with a number of fellowships, prizes, awards, and an honorary doctorate.
Dr. Lyon is teaching Smartphones, Surveillance, and Human Flourishing from July 17 to 21 as part of Regent's 2023 Summer Programs.
How to Attend
Join us in Regent's chapel, or tune in via livestream. A video recording will be available online for a limited time after the event.
Location
Regent College, 5800 University Boulevard, Vancouver, BC V6T 2E4
Parking
Paid parking available at Regent College and UBC