Bookstore
Book Launch: Reading the Bible Better
Thursday, Feb 9, 2023 at 7:00PM - 9:00 PM (Pacific Time)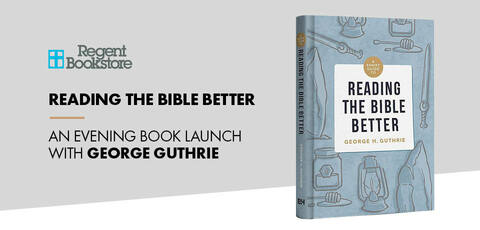 George Guthrie
Thursday, February 9, 2023
7–9 pm in the Regent College Chapel
You are invited to an author talk and book signing to celebrate the release of
A Short Guide to Reading the Bible Better
by George Guthrie, Professor of New Testament at Regent College.
Opening Reception
Please join us in the Regent College Chapel for this onsite event or connect online via rgnt.net/live.
A Short Guide to Reading the Bible Better
will help you unearth fresh perspectives on how to read God's Word well through clear and concise guidance. Get ready to enjoy an introduction to this work as you hear from Professor Guthrie on how to open God's Word with intention, purpose, and context every time.
ABOUT THE AUTHOR
George Guthrie is Professor of New Testament at Regent College in Vancouver, British Columbia. He has taught the Bible all over the world, across North Amercia, as well as in East Asia, the United Kingdom, Germany, South Africa, and India. He has a passion for equipping leaders and laypeople to read and live the Bible more effectively.
Location
Regent College, 5800 University Boulevard, Vancouver, BC V6T 2E4
Parking
Paid parking available at Regent College and UBC