Alumni
Together at Midday
Wednesday, Jul 28, 2021 at 12:00PM - 12:45 PM (Local Time)
This event has now ended. Please view this page to see all our upcoming events.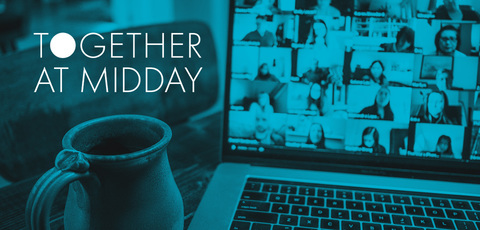 One of the hallmarks of life at Regent is the opportunity to be together -- reflecting, discussing, sharing, praying -- and in the midst of doing so, to forge new relationships and to strengthen old ones. In follow-up to our successful 50th anniversary online reunion and last year's Together at Midday gatherings, we are glad to host another online opportunity to connect. During this Together at Midday, we'll interview a former faculty member and then spend time asking questions and sharing.

Together at Midday is open to our wide Regent community, so this is a lovely opportunity to get to know alumni, current students, and friends of the College. Feel free to eat your lunch while we are together.

This week we will be joined by Professor Emeritus Dr. Sven Soderlund, who was recently honoured with a Festschrift, called Scriptures, Scholarship and the People of God: Essays in Honour of Sven K. Soderlund, edited by alumni Stuart T. Rochester and Joseph H. S. Lee.

Dr. Sven Soderlund first started teaching at Regent College in 1978 and became Associate Professor of Biblical Studies in 1986. During his time at Regent, he taught courses in both Greek and Hebrew, Old Testament Prophets, Luke-Acts, Pauline Letters, and Hebrews. In addition to serving on the faculty, he was also Dean of Students from 1989 to 2005. Since his retirement in 2006, Dr. Soderlund has continued teaching at Regent, offering courses in Exegesis and Interpretation, Acts, and Pauline Letters. His academic studies have been enriched by several overseas ministry experiences in Europe and Latin America, as well as by visits to biblical sites associated with the travels of Paul in Asia Minor (modern Turkey) and Greece. He has a heart for the integration of biblical scholarship and biblical spirituality in both the church and the academy. His current research interests lie in exploring the church-planting and church-nurturing mission of the apostle Paul, together with implications for ministry and church life in our neo-pagan, post-Christian twenty-first century.
Together at Midday is free, but we request that you RSVP below to help us manage our time together well. We will start promptly at 12pm, so please join the zoom meeting a few minutes early so we are ready to go at noon.
Questions? Please email Conor at [email protected]

RSVP FORM