Dal Schindell Gallery
The Whale Without Jonah: an Exhibit by Douglas Coupland
Wednesday, Sep 1, 2021 at 9:00AM - Sunday, Sep 5, 2021 at 4:00PM PDT
This event has now ended. Please view this page to see all our upcoming events.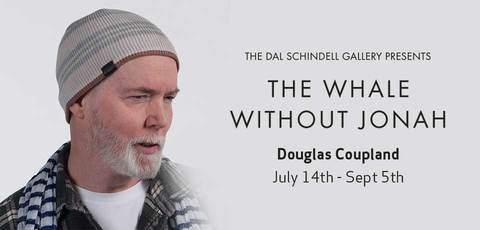 Regent's Dal Schindell Gallery is proud to present The Whale Without Jonah, an exhibit by iconic Canadian artist Douglas Coupland.
Douglas Coupland's prophetic voice has long addressed themes of loneliness and alienation. A deeply curious polymath, questions of modernity and eternity echo in his characters, slogans, and carefully curated collections. A gallery in a graduate theological school may seem like an unlikely home for his work, and yet whispers of art's historical dialogue between the sacred and the secular remind us there is nothing more natural. Re-envisioning and re-purposing the mundane (like aerosol cans), Coupland's work explores both reality and redemption. In his organized patterns and attentive interrelatedness, belonging emerges.
Since 1991, Douglas Coupland has written thirteen novels published in most languages. He has written and performed for England's Royal Shakespeare Company and is a columnist for The Financial Times of London. He is a frequent contributor to The New York Times, e-flux, DIS and Vice. In 2000 Coupland amplified his visual art production and has recently had two separate museum retrospectives, Everything is Anything is Anywhere is Everywhere at the Vancouver Art Gallery, The Royal Ontario Museum and the Museum of Contemporary Canadian Art, and Bit Rot at Rotterdam's Witte de With Center for Contemporary Art, and Munich's Villa Stücke. In 2015 and 2016 Coupland was artist in residence in the Paris Google Cultural Institute. In May 2018 his exhibition on ecology, Vortex, opened at the Vancouver Aquarium.
Coupland is a member of the Royal Canadian Academy, an Officer of the Order of Canada, an Officer of the Order of British Columbia, a Chevalier de l'Ordre des Arts et des Lettres, and receiver of the Lieutenant Governor's Award for Literary Excellence.
While the Schindell Gallery remains closed to drop-in visitors, we are delighted to announce that in-person guided tours will be available through the duration of the show. Up to three individuals may visit at a time. All visits to the gallery must be booked in advance.
Schedule Your Visit