Livestream
Work and Leisure in a Technological World
Friday, Apr 2, 2021 at 12:30 PM – 1:30 PM (Pacific Time)
This event has now ended. Please view this page to see all our upcoming events.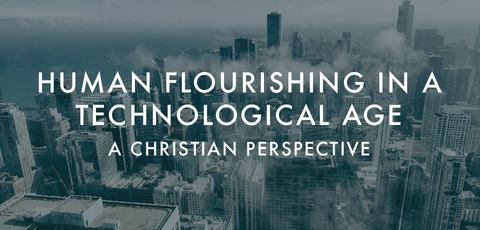 Being human in our technological age requires not merely technical skills but—more importantly—intellectual capacity to navigate a rapidly changing philosophical milieu. Join us this winter for our online lecture series, Human Flourishing in a Technological Age, to learn from leading scholars about key aspects of what it means to be human in a technological age: personhood, embodied cognition, leisure, transhumanism and more.
Please join us on Friday, April 2 as we welcome Dr. Clark Elliston who will give the lecture "Work and Leisure in a Technological World."
The 21st century has seen a revaluation of work, now understood as a mode of self-realization and fulfillment, and Americans work longer and harder than ever before, despite having more material goods than ever before. Concomitantly, the modern world suffers from a devaluation of authentic leisure, which finds clear expression in two related areas of concern: sports and friendship, both of which have been co-opted by social media technologies promising ever-expanding immediacy of relation.In this lecture, Dr. Elliston will build on these realities to argue that philosophical technophilia seriously overlooks aspects of Western modernity which threaten the foundations of human flourishing. After all, it is not accidental that disparate aspects of human being, like aesthetic appreciation and basic sociality, diminish in technological societies. He concludes that the very aspects of technological advance that have contributed much to the betterment of humankind also contain within them seeds of destruction if left unrealized and unchallenged.

Dr. Clark Elliston is Assistant Professor of Religion and Philosophy and director of the Honors Program at Schreiner University. He has taught on ethics, theology, Christian scripture, and history of the Christian church. He has published a monograph on Dietrich Bonhoeffer entitled Dietrich Bonhoeffer and the Ethical Self (Fortress 2016) and co-edited two collections, Theology and the Films of Terrence Malick (Routledge 2016) and Film and Theology in Martin Scorcese (Routledge 2018).
Watch this space for registration information closer to the event date.