Laing Lectures
Laing Lectures I - The Assaults
Thursday, Oct 25, 2012 at 7:30PM - 9:30 PM PDT
This event has now ended. Please view this page to see all our upcoming events.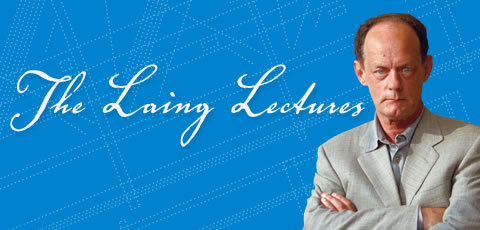 We regret that audio or video recordings of Rex Murphy's lectures are not available.
Location: First Baptist Church, 969 Burrard St., Vancouver, BC

FROM DOCTRINE TO DOCTRINES: THE HOLLOWING OUT OF THE CHRISTIAN CONSENSUS
Has modern secular thought assumed the authority and deference of "doctrine," supplanting traditional faith? Rex Murphy thinks so. Over the course of three lectures, Mr. Murphy will offer an account of how the Christian understanding of life was pushed back, was attacked by, and in some cases surrendered itself to purely secular imperatives. He will remark on the great voids left by this retreat, and how in some cases secular understandings, such as the prevailing socio-political thought of many Western nations, have occupied the empty terrain and even taken on the character once owned only by religious belief—but without its philosophical foundations. Finally, Mr. Murphy will examine two cases that illustrate this perspective: the advance of environmentalism as an ersatz-religion, and the phenomenon of political correctness, and its heavy-handed corrections, which amounts to another form of orthodoxy.
Lecture I: The Assaults
Other lectures in the 2012 Laing Lecture series:
Lecture II: The Long Retreat | Lecture III: The Present Imperium
About Rex Murphy
Rex Murphy was born and raised in Newfoundland, where he graduated from Memorial University. A Rhodes Scholar, he attended Oxford University (along with U.S. President Bill Clinton). When he returned to Newfoundland he was soon established as a quick-witted and accomplished writer, broadcaster and teacher.
Murphy's primary interest is in language and English literature, but he also has a strong link with politics. Murphy gained an insider's view of the political world when he worked as executive assistant to the Newfoundland Liberal Party leader. To get an even closer taste of politics, Murphy ran twice as a Liberal candidate in the provincial elections.
Murphy contributes extensively to CBC on many current affairs issues. He contributes a regular televised essay to CBC's The National, dealing with topics as diverse as the Royal Family, smoking, and Quebec politics. He has also created a number of documentaries from Newfoundland, including the highly acclaimed "Unpeopled Shores," about the collapse of the Newfoundland fisheries. Additional documentary work has included pieces on the Second World War, scientist Hubert Reeves, business tycoon Conrad Black, and William Shakespeare.
Rex Murphy writes a weekly column for The National Post and is the author of the book, Points of View, a collection of his columns and commentaries. Murphy also hosts Canada's only national open-line radio program, CBC Radio's Cross Country Checkup, with close to half-a-million listeners tuning in every Sunday afternoon. The program is broadcast live across Canada on CBC Radio One, on Sirius satellite radio, and around the world on the Internet. Rex Murphy has won several national and provincial broadcasting awards and has been awarded honorary doctorates in letters by Memorial University, St. Thomas University, and Nipissing University.
Much in demand as a speaker, his oratory —a volatile mix of insight, humour and biting political commentary, powered by an extraordinary vocabulary—brings audiences to their feet at events from coast to coast.
About the Laing Lectures
The Laing Lectures began at Regent College in 1999 in cooperation with Roger and Carol Laing and in honour of their father, William John Laing. The purpose of the lectures is to encourage persons recognized for scholarship, wisdom, and creativity to undertake serious thought and original writing on an issue of significance for the Christian church and to promote the sharing of such thoughts through a series of public lectures. The material presented by Laing Lecturers is intended to move beyond an analysis of historic and current concerns to provide proposals for alternative action for the Christian church. In doing so, lecturers will be invited to explore in an interdisciplinary way the relationship between Christianity and culture, and to suggest ways in which that relationship might lead to greater flourishing of the church, the larger human household, and the whole community of creation.
Past Laing Lecturers: Neil Postman (2000), Charles Taylor (2001), Peter Berger (2002), Margaret Visser (2004), Miroslav Volf (2006), Nicholas Wolterstorff (2007), Walter Brueggemann (2008), Susan Wise Bauer (2010), and Albert Borgmann (2011).
Location
First Baptist Church, 969 Burrard St., Vancouver, BC