Conference
The Tears of Christ and the Silence of God
Friday, Jul 6, 2018 at 9:00AM - Saturday, Jul 7, 2018 at 3:00PM (Pacific Time)
This event has now ended. Please view this page to see all our upcoming events.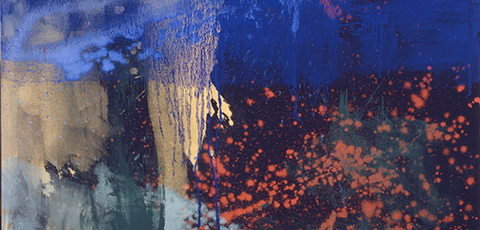 The Information Age has made us witnesses to the breadth of the world's sorrows like never before. Often, we are overwhelmed by all we know. If it is a hurricane in Haiti one day, it is a chemical bombing in Syria the next, then a terrorist attack in Egypt followed by a mass shooting in Las Vegas, and on and on and on. As we look around us, we know that everyone everywhere knows the wounds of the world, sometimes very intimately, always very universally. What do we do? After we have cried out, "Christ have mercy," then what?
This symposium grows out of the long friendship of Makoto Fujimura and Steven Garber, who together have wrestled with the meaning of their own vocations in the face of the tears of Christ, finding in them a way to live, and still love, amidst the ruins. Delve deeply into the meaning of Martin Scorcese's film, "Silence," from the novel by Shusaku Endo. Reflect on our common calling to listen to the suffering of the world, even as we speak to the world in and through our own unique vocations.
Those wishing to participate in the symposium for 1 graduate credit will complete reading and additional coursework with Dr. Garber. The symposium counts towards the arts concentration for the masters degree.
Friday, July 6, 9am–4:30pm; Film Screening 7:30–9 pm
Saturday, July 7, 9am–3pm
Pricing:
$300 for regular conference entry until July 5
$350 for same day registration on Friday or Saturday, July 6 & 7
$580 for symposium plus 1 credit option until July 5
$630 for same day registration plus 1 credit option on Friday, July 6 (unavailable after that date)
Registration by July 1st includes lunch on Friday and Saturday. All tickets include a Friday evening film screening of Martin Scorcese's
Silence
.
The last day to receive a full refund on symposium registration is Tuesday, July 3, 2018.
Students wishing to sign up for credit may do so until Friday, July 6, 2018. Credit students have until Tuesday, July 3, 2018 to receive a full refund on symposium registration and tuition fees (less the $35 registration deposit). No refund for symposium registration ($300) will be provided after Tuesday, July 3, 2018. Credit students have until Friday, July 6, 2018 to drop the credit option of the symposium for a refund of tuition fees less the $300 symposium fee and $35 registration fee. Credit students may drop the credit option without refund until Friday, July 13, 2018.
Speakers:
Makoto Fujimura is an artist, writer, and speaker who is recognized worldwide as a cultural shaper. Educated at Bucknell University and Tokyo University of Fine Arts and Music, Fujimura's style blends abstract expressionism with the traditional Japanese art of Nihonga. He founded the International Arts Movement in 1991 and currently serves as the Director of the Brehm Center for Worship, Theology, and the Arts at Fuller Theological Seminary.

Dr. Steven Garber, Professor of Marketplace Theology and Leadership at Regent College, is Director of Regent's new graduate program, the Master of Arts in Leadership, Theology, and Society. He comes to Regent College most recently from his role as Principal of The Washington Institute for Faith, Vocation, and Culture in Washington, D.C. Dr. Garber's conviction that faith must be held together with every part of life has led him to engage deeply in a variety of contexts.