Livestream
Remaining Focused: Human Flourishing in the Emergent Techno-Culture
Friday, Apr 16, 2021 at 12:30PM - 1:30 PM (Pacific Time)
This event has now ended. Please view this page to see all our upcoming events.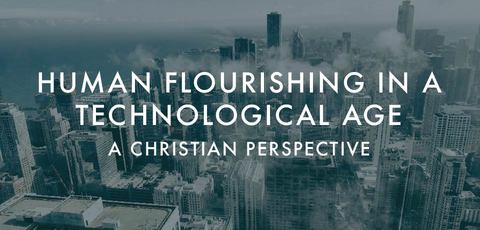 Being human in our technological age requires not merely technical skills but—more importantly—intellectual capacity to navigate a rapidly changing philosophical milieu. Join us this winter for our online lecture series, Human Flourishing in a Technological Age, to learn from leading scholars about key aspects of what it means to be human in a technological age: personhood, embodied cognition, leisure, transhumanism and more.
Please join us on Friday, April 16 as we welcome Dr. Brent Waters who will give the lecture "Remaining Focused: Human Flourishing in the Emergent Techno-Culture."
In this lecture, Dr. Waters will argue that human flourishing entails participation in communicative associations (e.g., church, family, and friendships). "Communication" is derived from the Greek koinonia that can be variously translated as communion, community, or communicate. Communicative associations promote the sharing, rather than exchange, of material and immaterial goods that promote the wellbeing of its members. Over time, such sharing requires practicing a series of acts and relationships that are repetitive and mundane.Since human flourishing thereby comprises more ordinary than extraordinary behavior, the challenge is to prevent or resist the various social forces driving the emerging technoculture from becoming distractions that effectively diminish human wellbeing. This in turn requires a critical engagement with technology rather than its rejection.
Dr. Brent Waters is the Jerre and Mary Joy Stead Professor of Christian Social Ethics, Garrett Evangelical Theological Seminary. His current work is focused on the domain of Christian ethics, where he pursues questions of moral life as it is lived out in often ordinary and routine patterns of daily living. His work asks such questions as: What are my duties and responsibilities to loved ones? Should I extend hospitality to strangers? How should I treat neighbors near and far? Most significantly, Dr. Waters research is concerned with the challenge of interpreting the moral implications of the gospel in and to a diverse and rapidly changing world. He is the author of numerous articles and several books, including From Human to Posthuman: Christian Theology and Technology in a Postmodern World (Routledge 2006) and Christian Moral Theology in the Emerging Technoculture: From Posthuman Back to Human (Routledge 2016).