Special
Lunchtime Concert: Silk Road Music
Thursday, Jul 25, 2013 at 12:00 PM – 1:00 PM (Pacific Time)
This event has now ended. Please view this page to see all our upcoming events.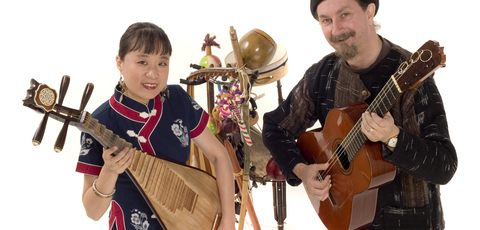 Silk Road Music is a Vancouver-based world music ensemble that introduces audiences to different cultures through their experience, discoveries, and travels. The ensemble includes Qiu Xia He from China on pipa, accompanied by multi-instrumentalist Andre Thibault, originally from Montreal, Quebec. With inspiration, freshness, and passion, their performances express authentic views on traditional music forms, unprecedentedly uniting the East to the West. Whether you can name the music category or not, Silk Road Music delivers virtuosity and imagination.

Silk Road Music is a professional ensemble that has been touring and recording since 1991. From festivals to symphony halls, the group has garnered fantastic reviews from audiences and media for its virtuosic skills and artistry. Its two CDs have won Best World Music Album at the West Coast Music Awards. Their debut CD, Endless, was also nominated for a JUNO. Autumn Cloud was acclaimed for its universal vision and nominated at the Canadian Folk Music Awards in 2006 for "Best Ensemble" and "Pushing the Boundaries" categories. In January 2012, they released their new CD, Standing Out. It has been played on CBC Radio several times.

Silk Road Music features the musical groups Jou Tou as well as the soloists Qiu Xia He and Andre Thibault. The music is a blend of traditional Chinese pipa and flamenco guitar.
Cost
Our lunchtime concerts are free, so come and join us!