Bookstore
Bullies & Saints: A Conversation with John Dickson
Thursday, Jul 22, 2021 at 12:00PM - 1:00 PM (Pacific Time)
This event has now ended. Please view this page to see all our upcoming events.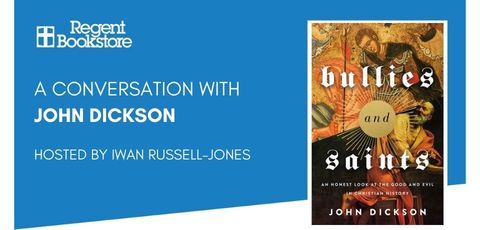 The Regent College Bookstore invites you to join us for a conversation with Dr. John Dickson about his recent book, Bullies and Saints: An Honest Look at Good and Evil in Christian History.

Is religion a pernicious force in the world? Does it poison everything? Would we be better off without religion in general and Christianity in particular? Many skeptics certainly think so. In Bullies and Saints, John Dickson gives an honest account of the mixed history of Christianity, the evil and the good. He concedes the Christians' complicity for centuries of bullying but also shows the myriad ways the beautiful melody of Christ has enriched our world and the lives of countless individuals. This book asks contemporary skeptics of religion to listen again to the melody of Jesus, despite the discord produced by too many Christians through history and today. It also leads contemporary believers into sober reflection on and repentance for their own participation in the tragic inconsistencies of Christendom and seeks to inspire them to live in tune with Christ.
Dr. John Dickson started out as a singer-songwriter, and now works as an author, academic, and media presenter. In 2007 he co-founded (with Dr Greg Clarke) the Centre for Public Christianity, and has published 18 books and three TV documentaries. He teaches 'Historical Jesus' at the University of Sydney, and is a Visiting Academic (2016-2021) in the Faculty of Classics at the University of Oxford. In 2019 he was appointed Distinguished Fellow and Senior Lecturer in Public Christianity at Ridley College, Melbourne. In all that he does, whether in the media or the church, creative or academic, he strives to be a public advocate for the Christian faith. His podcast Undeceptions seeks to promote clarity about Christianity in doubting times. Having lost his father in a plane crash at 9, John is sympathetic to the sorrows and questions of our world, and values his wife and three children above all other gifts of this life.
This conversation was pre-recorded. The video link will appear here by Noon PDT on July 22. If you are unable to view the link here, please visit our YouTube page.