Conference
Doing Kingdom Work in the Secular Marketplace
Friday, Jan 20, 2017 at 7:00 PM –Saturday, Jan 21, 2017 at 4:30 PM (Pacific Time)
This event has now ended. Please view this page to see all our upcoming events.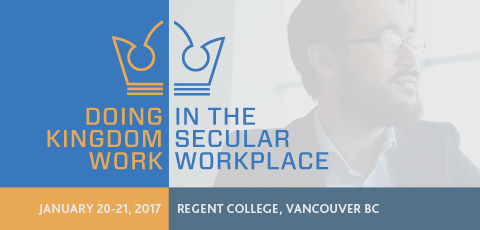 What does faith have to do with my 9 to 5 job? How does what happens on Sunday impact the other six days of the week? And how can pastors and church leaders equip their people to respond faithfully and thoughtfully to the complexities of today's workplace?
If these questions matter to you, we invite you to join our 2017 Christian in the Workplace Conference, Kingdom Building in the Secular Workplace. This year's conference, co-sponsored by Regent College and the Institute for Marketplace Transformation, brings together practitioners, pastors, and leaders to help answer these tough questions:
Does my work matter to God?
What does it mean to be a Christian in the secular workplace?
How can the church support me in my daily work?
What does the Bible say about how I do business?
How does my daily work help build the kingdom of God?
Join us at Regent College on January 20–21, 2017, to find out what it means to build the kingdom daily in the secular workplace.