Arts
From the Urban Landscape
Wednesday, Oct 1, 2014 at 4:30PM - Friday, Oct 3, 2014 at 4:30PM (Pacific Time)
This event has now ended. Please view this page to see all our upcoming events.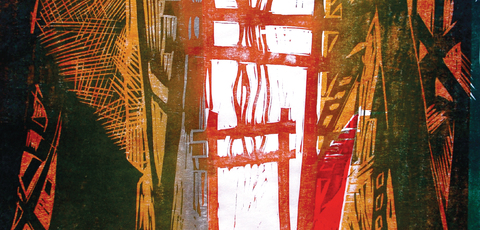 Join us for the opening reception of Richard Tetrault's exhibit, From the Urban Landscape on Wednesday, Sep 10 from 4:30-7:30 pm at Regent College's Lookout Gallery.
About the show
Artist and muralist Richard Tetrault reconstructs the contemporary urban landscape, presenting images that fuse the allegorical and mythical with the commonplace. He wants to project a parallel world that draws the viewer into a dialogue with this imagery. From the Urban Landscape runs at the Lookout Gallery from September 10 until October 3.
About the Artist
Richard Tetrault's paintings, prints, and murals explore life within the contemporary urban landscape. Based in East Vancouver, he has exhibited extensively both locally and internationally. Tetrault's woodcuts, linocuts, monotypes and acrylics are multifaceted investigations examining the artist's place in the context of community, the street, and the industrial environment.
Location
Regent College Lookout Gallery