Public Lecture
Settling in to a Decadent Decline Lecture 3
Thursday, Oct 23, 2014 at 7:30PM - 9:00 PM
This event has now ended. Please view this page to see all our upcoming events.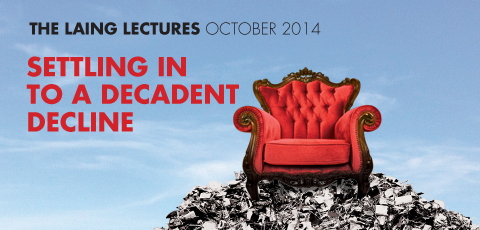 Regent College is pleased to welcome Ross Douthat as the speaker for the 2014 Laing Lectures. His lectures will look ahead to the next 50-100 years and discuss why a kind of "sustainable decadence" is what our twenty-first century can expect. Stay tuned for more details.
About the speaker
Ross Douthat joined the New York Times as an Op-Ed columnist in April 2009. Previously, he was a senior editor at the Atlantic and a blogger for theatlantic.com. His most recent book is Bad Religion: How We Became a Nation of Heretics (Free Press, 2012). He is also the author of Privilege: Harvard and the Education of the Ruling Class (Hyperion, 2005) and the co-author, with Reihan Salam, of Grand New Party: How Republicans Can Win the Working Class and Save the American Dream (Doubleday, 2008). He is the film critic for National Review. A native of New Haven, Conneticut, he now lives in Washington, D.C., with his wife and two daughters.