Bookstore
Jesus and Paul: Were they on the Same Page?
Tuesday, Oct 29, 2013 at 7:30PM - 9:00 PM
This event has now ended. Please view this page to see all our upcoming events.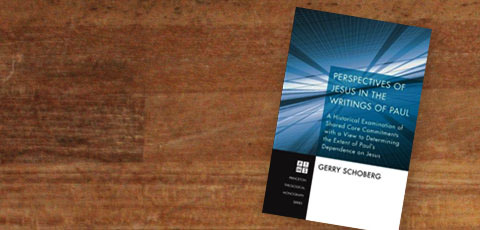 The Regent College Bookstore proudly presents an evening public lecture by Gerry Schoberg, Senior Academic Administrator, to celebrate the release of his new book Perspectives of Jesus in the Writings of Paul, published by Wipf and Stock in July 2013. A book signing will follow the talk.
About the Book
Was Paul shaped by the movement that began with the teaching and activities of Jesus, or did he start something new? Attempts to answer this question one way or the other have a long history dating back to the nineteenth century. The purpose of this book is to raise the question again in light of more recent scholarly work—especially in light of historical Jesus research and the so-called New Perspective on Paul.
What Other People are Saying
"This advances the discussion about the relationship of Jesus to Paul, or Paul to Jesus, by a decade. I have tired of facile knockdowns of Paul because he doesn't talk often enough about kingdom, or because he doesn't rehearse some of the Sermon on the Mount, and yet those facts won't go away. But deeper than specifics is a pattern of thinking, and Schoberg's proposals show Jesus and Paul were on the same page, even if Paul carried on the conversation Jesus began."— Scot McKnight, Professor of New Testament, Northern Seminary
"Schoberg sheds new light on the thorny question of how Paul relates to Jesus. Perspectives of Jesus in the Writings of Paul takes a new and creative approach that, in my view, is both stimulating and compelling. Schoberg shows how the lines of continuity between Jesus and Paul are meaningful and very significant. In essence, we see in Paul's outreach to Gentiles a replication of the distinctive elements of the ministry of Jesus. Those who claim Paul invented a new faith need to read Schoberg's well-written book carefully."—Craig A. Evans, Professor of New Testament, Acadia Divinity College
Location
Regent College Chapel