May 18–19, 2012
Margaret Somerville, Maxine Hancock,
James M. Houston, J.I. Packer
More people are living longer today than in any time in history. Seniors are the fastest-growing age group in North America. Yet neither Church nor culture seems adequately prepared to face the needs, the costs, and moral consequences of this "grey tsunami." Cultural models for meeting the challenge of aging either are based on denial or succumb to despair. Aging in hopelessness is misery, aging in false hope is ruinous, aging with no forward look at all is pathetic. Could the biblical vision of human life offer us a more realistic, more ethical, and more hopeful understanding of age and aging? Join one of Canada's leading public intellectuals and three of Regent's own gifted and beloved scholars as they think about the implications and the opportunities that this next great challenge offers us.
Maxine Hancock
Professor Emerita of Interdisciplinary Studies and Spiritual Theology
BEd, MA, PhD (University of Alberta); DHum (Honorary, Trinity Western University)
Maxine Hancock is Professor Emerita of Interdisciplinary Studies and Spiritual Theology at Regent College, where she taught from 1998 to 2010. She is also an author, speaker, and broadcaster. Her many books and articles have gained a wide audience and won awards from the Canada Council, the Canadian Church Press, and the Evangelical Press Association (US). Some of her earlier publications combine life experience and theological reflection, and include Living on Less and Liking it More; Re-evaluating Your Commitments; and Love Knows No Difference: Learning to Give and Receive. Dr. Hancock's publications also include academic work on seventeenth-century narrative prose, as well as a collection of short essays, Gold from the Fire: Postcards from a Prairie Pilgrimage. She has been honoured with the Word Guild's Leslie K. Tarr Award (1990) for her contribution to Christian writing in Canada, and the Leading Women's Award in Communications and Media (2004) for her leadership in communicating the Christian faith in Canada. Dr. Hancock and her husband now live in Nova Scotia. They have four adult children.
Session 1: "Courageous Aging: Finding a Path Beyond Denial or Despair"
---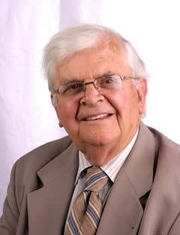 James M. Houston
Board of Governors' Professor of Spiritual Theology
MA (Edinburgh), MA, BSc, DPhil (Oxford)
Dr. James Houston is the one of the "founding fathers" of Regent College; he was the first principal of the College from 1970–1978. He has been the Board of Governors Professor of Spiritual Theology since 1991. His major areas of interest include the Christian mind, the Trinity, prayer, and the traditions of Christian spirituality. Dr. Houston's current research is on the role of the penitential psalms in the history of the Church. Dr. Houston has published numerous books and articles. His recent books include two volumes of Letters of Faith Through the Seasons (David C. Cook, 2006, 2007), and five volumes in the Soul's Longing series—The Desire, The Fulfillment, The Prayer, The Creator, and The Disciple (David C. Cook, 2007; The Prayer was previously published as The Transforming Power of Prayer (NavPress, 1996), and as The Transforming Friendship (Lion, 1989)). He has also recently published The Psalms as Christian Worship: A Historical Commentary (Eerdmans, 2010) with Bruce Waltke as well as A Vision for the Aging Church: Renewing Ministry for and by Seniors (IVP, 2011) with Dr. Michael Parker.
Session 2: "The Challenge of Aging for the Culture and the Church"
---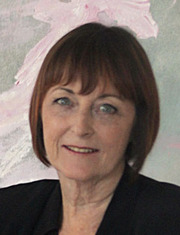 Margaret Somerville
Samuel Gale Professor of Law, Professor in the Faculty of Medicine
Founding Director of the Centre for Medicine, Ethics and Law, McGill University
Margaret Somerville has an extensive national and international publishing and speaking record and frequently comments in all forms of media. Her work has included research, speaking engagements, and consultation on issues related to euthanasia; aging populations; human rights in health care, including in a global context; the role that scientific and medical research and technology play in the formation of societal values and the societal paradigm; and many other issues. Her books include The Ethical Canary: Science, Society and the Human Spirit (Penguin 2000), and The Ethical Imagination: Journeys of the Human Spirit (Anansi 2006; CBC 2006 Massey Lectures). She is a Fellow of the Royal Society of Canada and among her many other honours and awards are the Order of Australia, seven honorary doctorates, and the UNESCO Avicenna Prize for Ethics in Science.
Session 3: "An Aging Society as a Litmus Test of Our Ethics"
---
J.I. Packer
Board of Governors' Professor, Theology, Regent College
MA, DPhil (Oxford)
J.I. Packer became Professor of Systematic and Historical Theology at Regent College in 1979. In 1989, he was installed as the first Sangwoo Youtong Chee Professor of Theology. In 1996, he became Board of Governors' Professor of Theology. Dr. Packer has preached and lectured widely in Great Britain and North America, is a frequent contributor to theological periodicals, and is an Executive Editor of Christianity Today. He was General Editor of the English Standard Version of the Bible, published in Fall 2001. Dr. Packer's more recent publications include Life in the Spirit, A Grief Sanctified, Truth and Power, Knowing and Doing the Will of God, Great Power, Great Grace, Great Joy, The Redemption and Restoration of Man in the Thought of Richard Baxter, Knowing God through the Year, Knowing God's Purpose for your Life, Never Beyond Hope, God's Plans for You, Faithfulness and Holiness, One Faith (with Thomas Oden), and Praying (with Carolyn Nystrom). His Collected Shorter Writings are available in four volumes, and a selection of his articles has been published as The J.I. Packer Collection.
Session 4: "Toward the Blessed Hope: An Eschatology for the Aging"
Friday, May 18, 2012
6:00–7:00 pm
Registration/Check-in & Coffee
7:00–9:00 pm
Welcome/Introductions
Worship/Plenary Session #1
Maxine Hancock: "Courageous Aging: Finding a Path beyond Denial or Despair"
Q&A/Response
Saturday, May 19, 2012
8:30–9:00 am
Check-in & Coffee
9:00–10:15 am
Plenary Session #2
Jim Houston: "The Challenge of Aging for the Culture and the Church"
Q&A/Response
10:15–10:45 am
Break
10:45–12:15 pm
Plenary Session #3
Margaret Somerville: "An Aging Society as a Litmus Test of Our Ethics"
Q&A /Response
12:15–1:30 pm
Lunch
1:30–2:30 pm
Plenary Panel
2:30–2:45 pm
Break
2:45–4:00 pm
Plenary Session #4
J.I. Packer: "Toward the Blessed Hope: An Eschatology for the Aging"
Q&A/Response
4:00–4:30 pm
Closing Worship & Benediction/Prayer
Early Bird Discount effective until: Friday, April 20.
Registration ends: Wednesday, May 16.

RATES
| | |
| --- | --- |
| | |
| Individual | $185 |
| Senior (60 years and above) | $155 |
| Regent College Alumnus/Alumna | $155 |
| Full-time Student | $125 |
| Spouse | $125 |
All rates are per person, in Canadian dollars, and include all applicable taxes (HST #107881039), refreshments, and lunch.
Regent College Conference on Aging requests for cancellations or refunds (minus a $25 processing fee per registration) must be received by close of business on Friday May 11, 2012. Registration closes at midnight PST on Wednesday May 16, 2012.
Parking
Regent College has very limited parking for Saturdays and evenings only. Parking is available a short walk from Regent at the University of British Columbia (costs from $4.25-12 per day). For updated information and further details on parking at UBC and UBC shuttle schedule visit the UBC Parking website.
For directions to Regent College, maps, and modes of transportation, visit Getting Here.
Public transportation
Public transportation is available from many parts of Vancouver. For bus routes and scheduling, phone 604.953.3333 or visit the Translink website.
Self-arranged Accommodations
As there are hundreds of hotels, bed and breakfasts and other types of accommodation in the Vancouver area this is by no means an exhaustive list. But these particular options are close to Regent College, and some offer discounts to Regent students.
UBC Conferences and Accommodation
(5-minute walk from Regent College to Walter Gage Residence).
Over 3,000 rooms are available from May through August. These include fully equipped suites, single or shared apartments, and dormitory or hostel-style rooms. Or choose to stay in The West Coast Suites, their deluxe year-round accommodation. Prices range from $33/night (Paficic Spirit Hostel) to $199/night at peak season (West Coast Suites).
Phone: 604.822.1000
E-mail: [email protected]
Website: www.ubcconferences.com
TRIUMF House
(7-minute walk from Regent)
TRIUMF House is a 34-room boutique Vancouver Guest House located 3 blocks south of Regent that houses visiting scientists, professors, students and visitors to UBC. Accommodation types include 1-bedroom suite with private patio and kitchenette, single room with kitchenette, Deluxe Queen Room and Standard Queen Room or Twin room. Prices range from $110-175/night. Rooms come equipped with high speed Internet access, flat screen cable TV, local phone access and toiletries. All guests have access to lounge with fireplace and piano, dining room, fully-equipped commercial kitchen for guest use, 24-hour fitness room, computer room, laundry facilities, underground parking and outdoor patio. Prices range from $110/night to $175/night.
Phone: 604.222.1062 or 604.222.7633
Email: [email protected]
Website: www.triumfhouse.ca
St. Andrew's Hall
(15-minute walk from Regent)
This is a residence for full-time students on the campus of UBC. During the summer months (May 1 to August 26 only; they process summer applications and requests from mid-February onwards) their empty rooms and apartments are open as a temporary housing option. Prices start at $55/night.
Phone: 604.822.9720
E-mail: [email protected]
Website: www.standrews.edu
Carey Centre
(15-minute walk from Regent)
Carey Centre is a ministry of the Canadian Baptists of Western Canada. They provide fully furnished guestrooms starting from $71/night. All units come with a private bathroom. Housekeeping service provides linens, towels, and toiletries. Amenities include free local calls and high-speed internet access, as well as a flat screen tv in some units. Check-in is 3 pm, seven days a week. Parking is $5 per day. Guests are welcome to enjoy meals in their cafeteria for an additional fee.
Phone: 604.224.4308
E-mail: [email protected]
Website: www.carey-edu.ca/accommodation
St. John's College
(20-minute walk from Regent)
St. John's College, a UBC residence for graduate students, offers quiet and comfortable guest rooms to academic visitors to UBC. Rooms are furnished with a twin, double, or queen bed, private washroom, and basic furnishings. Some rooms are equipped with a telephone, television, coffee maker, bar fridge, and data port. Dining with College residents in their spacious Dining Hall is an integral part of the life of the College, and participation in the meal plan is mandatory for all guests. Dinner is served Sunday through Thursday. Prices start at $71/night.
Phone: 604.822.6522
E-mail: [email protected]
Website: www.stjohns.ubc.ca/GuestRooms.stm
Point Grey Guest House
(5-minute drive from Regent)
Established in 1990, the Point Grey Guest House is a 1920s character home with cozy, well furnished accommodation including a desk, free internet both wired and wireless, or the use of a guest computer station. An organic, healthy, and hearty breakfast is included. The Guest House is fully licensed and inspected by the City of Vancouver, and a member of the BC Innkeeper's Guild and Tourism BC.
Phone: 604.222.4104
E-mail: [email protected]
Website: www.pointgreyguesthouse.com
Beautiful Bed & Breakfast
(20-minute drive from Regent)
This B&B has a view of Vancouver's North Shore mountain peaks, Vancouver Island, and Mount Baker; a lovely backyard with a miniature Japanese pond garden and waterfall; and a friendly helpful host who will assist you with your travel plans while in Vancouver, BC, Canada. Tell them you're coming for a Regent course!
Phone: 604.327.1102
Email: [email protected]
Website: www.beautifulbandb.bc.ca