Dr. Hans Boersma Accepts Position at Nashotah House
April 16, 2018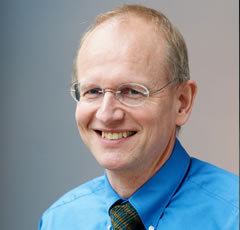 Dr. Hans Boersma has accepted the position of St. Benedict Servants of Christ Chair in Ascetical Theology at Nashotah House, an Anglican seminary in Wisconsin. Dr. Boersma has served as the J.I. Packer Professor of Theology at Regent College since 2005, and has been deeply appreciated by his colleagues and students.
During his tenure at Regent, Dr. Boersma has been a faithful servant of the College and the wider Christian community through his teaching and his numerous publications. He expressed the gratitude he feels for his years at Regent as he and his wife, Linda, prepare for this new opportunity:
"Regent has been a real gift—a wonderful home for Linda and me these past fourteen years. I'm so grateful to the Lord that he has allowed me a place here to learn and grow. I have been deeply shaped as a person by the many years of teaching and interacting with dear colleagues and friends. My theology is what it is only because of the numerous fruitful discussions I've had here over the years. Especially, to the students (the best in the world!), I'll forever be grateful. It's my prayer that our good Lord will continue to use Regent College to make his kingdom grow. I will miss you all."
Jeff Greenman, President of the College, expressed his deep appreciation for Dr. Boersma's contributions:
"Hans has served the College with distinction for fourteen years. He is not only an excellent teacher who is thoroughly dedicated to his students, but a superb scholar, and prolific author. He is a person of deep Christian integrity who loves God—and loves Regent and our mission.

"While we are all saddened to hear he will be leaving us at the end of next year, we are very pleased that he will remain connected to the College and continue to teach in the summers ahead."

The Academic Dean, Paul Spilsbury echoed the President's confidence in a rich ongoing relationship between the College and Dr. Boersma: "He will be greatly missed by students and colleagues alike. We are grateful for the ways Hans will be connected to Regent in years to come."