Dal Schindell Gallery
Digging Holes in November: An Exhibit by Julia Soderholm
Friday, Oct 1, 2021 at 5:00PM - Saturday, Oct 23, 2021 at 6:00PM (Pacific Time)
This event has now ended. Please view this page to see all our upcoming events.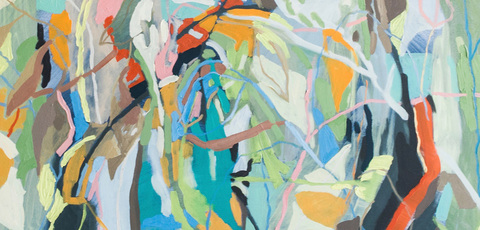 Regent's Dal Schindell Gallery is pleased to present Digging Holes in November, an exhibit by Vancouver artist Julia Soderholm.
You are warmly invited to join us for a gallery opening on Wednesday, September 8 from 5 to 8 pm.
Digging Holes in November will run from September 8 to October 22, 2021.
Artist Statement
This collection of paintings represent the felt landscape of a city neighbourhood. Here, colour and shape interpret the growth and decay of the seasons, and the response these cycles evoke in me. These works come from a year of attending to the details of the land I live on, as I walked and watched the way the boulevard gardens, overgrown lots, and sidewalk weeds shifted week to week and month to month. The shapes, forms, and colours of the landscape served as the foundation for my mark-making and are an intuitive response to the world around me.
These paintings are a reminder that the earth is never quiet. Even on the shortest of November days, slow work is happening beneath the soil. The blossoms of May are a revelation every Spring, but little miracles are unfurling all year round, if you know where to look for them.
Artist Biography
Julia Soderholm was born in Ontario, and attended Redeemer University, receiving a BA in art in 2013. She also holds a B.Ed from UBC with a focus in art education. Now based in Vancouver, her work has been included in various exhibitions across Canada. Julia is a full time art teacher in Vancouver, where she has spent the past few years designing and implementing a K-7 Visual Art program.
Location
Regent College, Dal Schindell Gallery
Parking
Paid parking available at Regent College and UBC
More Information